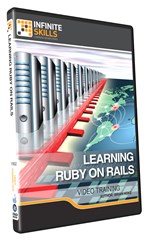 Learn Ruby on Rails at your own speed
(PRWEB) February 18, 2014
Software training firm Infinite Skills Inc. this week released its "Learning Ruby on Rails Tutorial," an introductory course designed to provide experienced and beginning web developers with the fundamental tools to begin working with Ruby on Rails in the web development process.
Ruby on Rails is a popular open-source web-application framework based on the Ruby programming language. Rails features a routing system that gathers information from the web server to query a database and render templates out of the box, allowing the framework to work independently of the web server.
Infinite Skills' Learning Ruby on Rails Tutorial is designed to help experienced web developers and even beginners learn to use this powerful framework quickly and with best-practices in mind.
Learning Ruby on Rails Training Video - Tutorial
Course author Brian Hoke currently works at the web development firm Bentley Hoke as a developer, designer, and marketer. He concentrates on web app development, particularly database-backed web apps, email campaigns, search engine marketing, and working with Wordpress and other PHP and MySQL tools. With advanced degrees in the liberal arts, Hoke now combines his early experience in teaching with his expertise in web development.
Hoke has designed Learning Ruby on Rails around two web apps, one pre-constructed to serve as an overview, and the other developed through the progress of the course listings.
Following a dissection of the pre-built blog app, demonstrating the model elements employed there, Hoke delivers a detailed tour of Ruby on Rails, explaining objects and classes, strings and numerics, arrays, control structures, blocks, and more fundamental Ruby tools and commands.
The course then follows the path of developing a timeline application, exploring critical areas of Ruby on Rails development such as domain modeling, controllers, views, using forms, authentication, working with mailers, files and exporting, and testing your apps.
Free demo videos and a full list of course contents can be found on the Learning Ruby on Rails Training Video page of the Infinite Skills website:
http://www.infiniteskills.com/training/learning-ruby-on-rails.html
Infinite Skills offers its Learning Ruby on Rails Training Video either as a DVD or a direct download from the company website at a retail price of $99.95. All Infinite Skills titles and formats are compatible with Mac and Windows operating systems. Shipping is available around the globe. Additionally, Infinite Skills tutorials are supported by project files which correspond to examples in the videos, allowing users to work alongside experienced instructors right on their computer or iPad.
About Infinite Skills Inc.
A leader in the field of software training, Infinite Skills strives to offer the highest quality training available at an affordable cost. Infinite Skills tutorials are task-oriented instructional videos, teaching complex skills by providing hands-on examples and guiding users as they carry out critical objectives. Infinite Skills offers a comprehensive range of software titles available as DVDs, digital downloads, and in iPad editions, keeping with company aim of delivering professional training to customers anywhere they want to learn.