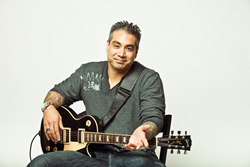 Fort Lauderdale, FL (PRWEB) March 07, 2014
For the month of March only, accomplished Fort Lauderdale guitar teacher Dyce Kimura is offering a special discount for those students who wish to start Skype guitar lessons. By mentioning the promo code "MARCH SKYPE SPECIAL" when contacting Dyce Kimura to sign up for Skype lessons, a new student will receive 35% off his or her first lesson.
Due to Kimura's high demand as a Fort Lauderdale guitar teacher and the difficulty his students sometimes face with scheduling, he began to offer lessons through Skype, and later, to market himself as a Skype guitar teacher. This was an instantly successful addition to his private lesson offerings. Now people from across the world contact Kimura for lessons, and students who had been under Dyce Kimura's tutelage, but moved away from South Florida, can continue to take lessons from him.
Kimura enjoys the connectedness that Skype offers him and the positive influence of having this as an option for his students. It allows more individual contact than his video lessons, which means more growth in skill for his students. "I currently have more openings for students," Kimura says. "I am hoping this March promotion will inspire those who have been thinking about taking guitar lessons to finally begin."
Young or old, beginner or advanced, acoustic or electric — Kimura is a willing teacher of all of these kinds of guitar students who come to him for Fort Lauderdale guitar lessons. Guitar is Kimura's passion, and he loves nothing more than to share it with his students through the lessons he gives. Whether they come to him as a five-year-old wanting to learn the basics, a college student wanting to be challenged, or as a middle-aged musician wanting to brush up his or her skills, Dyce Kimura welcomes the opportunity to help his students set and meet their personal goals. Encouraging them to work hard and inspiring them with his own talent at music, Kimura's students always leave a lesson feeling accomplished and eager to practice.
Dyce Kimura fills his days with his love of music and his passion for guitar. Having played guitar for nearly 30 years, Kimura offers his extensive knowledge of the instrument to each of his students. While primarily teaching guitar at this point in his life, Kimura does continue to play some at local events and venues. A resident of the Fort Lauderdale area, he also serves as worship leader at Lighthouse Community Church.
Contact: 786-457-3687