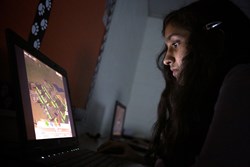 National, USA (PRWEB) February 16, 2014
SMS Tech Solutions, headquartered in NC, provides technology solutions for K-12, Higher Ed, Non-Profits, SMB, Commercial, State and Local Government.
SMS Tech Solutions introduces SimCityEDU: Pollution Challenge! Designed for middle school students, SimCity covers the Common Core and Next Generation Science Standards. In the game, students play the role of mayor, doing the challenging work of addressing environmental impact while balancing the employment needs and the happiness of the city's citizens.
SimCityEDU: Pollution Challenge! not only teaches students about the factors affecting the environment in a modern city, but the game also provides formative assessment information about students' ability to problem solve, explain the relationships in complex systems, and read informational texts and diagrams. Lesson plans, teacher and student dashboards—along with student data reporting—complete the SimCityEDU experience, delivering personalized learning to every student.
SimCityEDU is developed by GlassLab, a ground-breaking collaboration between the nonprofit Institute of Play, EA, and learning experts from Educational Testing Service and Pearson's Center for Digital Data, Analytics & Adaptive Learning, among others. GlassLab researches and develops digital game-based learning and assessment tools that engage students in innovative ways and validate student learning of the core skills deemed critical by states for college and the 21st century workplace.
SimCityEDU is available direct from SMS Tech Solutions online store. This program is available for purchase in the USA, Canada, and Mexico. More information is available at http://www.smstechsolutions.com.