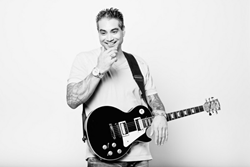 Fort Lauderdale, FL (PRWEB) March 11, 2014
For a limited time, outstanding Fort Lauderdale guitar teacher Dyce Kimura is offering a sizable discount to those coming to take lessons from the Miami area. Kimura offers guitar lessons in Hollywood, Florida, right off the turnpike exit, making for a convenient drive for those students coming from Miami. While the offer lasts, Miami students will receive a 50% discount on their first lesson with Dyce Kimura.
Dyce Kimura has been serving the Fort Lauderdale area for years as a guitar teacher. Young and old alike come to him for both acoustic and electric guitar lessons on every level. With a caring demeanor and an encouraging teaching style, Kimura is a favorite guitar teacher in the area. Under his tutelage, students not only see growth in their skill, but they develop a greater love of their instrument and the music they make.
For years, Kimura was a performer in Fort Lauderdale. This experience on the stage helped to nurture both an understanding of the music industry as well as the expectations that are set upon musical performers from their audiences. Now as a teacher, Kimura uses this knowledge to help instruct his students. If a student has big dreams of being a performer like he was, then Dyce Kimura can teach him or her the necessary skills to work toward that goal.
Kimura does not only teach those with dreams of being professional guitarists, though. His Fort Lauderdale guitar lessons are for all those who are interested in guitar, whether the student comes with a basic wish to know how to play an instrument, or the desire to make guitar an integral part of his or her life. Kimura has extensive knowledge and is able to help even the most advanced students.
From his South Florida home, Kimura reaches a wide student population through his video sets of beginning guitar lessons and through his work as a Skype guitar teacher. Through use of a webcam, Dyce Kimura is able to reach students from outside the state and outside the country for guitar lessons.
Fort Lauderdale guitar teacher Dyce Kimura has lived and worked as a guitarist in Fort Lauderdale for nearly 30 years. It is his delight to be serving the area as a guitar teacher, as well as serving his church as worship leader. Kimura's passion for music is infectious, and his goal is to share that passion with students.
Contact: 786-457-3687