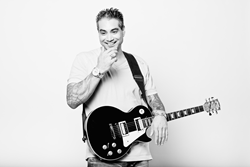 Fort Lauderdale, FL (PRWEB) March 18, 2014
For a limited time, Dyce Kimura will be offering a complimentary lesson to those of his students who are currently taking or have taken guitar lessons from him via Skype if a friend of theirs takes a lesson from him on their recommendation. Skype guitar teacher Dyce Kimura wants to increase his reach to those who may be interested in taking Skype guitar lessons and feels there is no better way to get the word out than through his past and present students.
"Word of mouth recommendations hold more weight than any other sort of recommendation," Kimura says. This is why he wants to spread the word that he is accepting more pupils through his present students. With the help of those who are already expanding, strengthening, and enjoying the musical skills they are learning under his tutelage, Dyce Kimura hopes to find more students as passionate about music as he is and who possess the willingness to learn that he loves to see in his pupils.
It is his passion for music that tugged at Kimura and prompted him to start giving Fort Lauderdale guitar lessons. For nearly 30 years, he has been playing guitar in bands, in churches, and for his own pleasure. Music is uplifting and inspiring to Kimura, so it seemed natural to him to share it with those around him. "What better way is there to share music," he says, "than to teach it?" With his natural aptitude toward encouraging others to do their best, Kimura soon became a popular guitar teacher in his area.
Having been a Fort Lauderdale guitar teacher for years, Dyce Kimura recently expanded his teaching to include the use of Skype. Through this innovative use of a webcam, Kimura has been able to continue to teach students who have moved away from the South Florida area, and has extended his reach with guitar lessons overseas. It has been a wonderful opportunity for Kimura to share his love of guitar with even more people than before.
Fort Lauderdale guitar teacher Dyce Kimura has been teaching guitar for many years. Primarily focused on teaching music at present, Kimura was first a performer in the Fort Lauderdale area. While still performing at area events and locales, Kimura is devoted to serving as worship leader at his church and giving his time and energies to the many students who come to him for lessons each week.
Contact: 786-457-3687