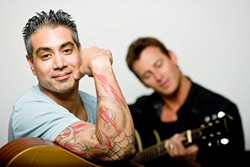 Fort Lauderdale, FL (PRWEB) March 25, 2014
For a limited time, Fort Lauderdale Guitar Teacher Dyce Kimura is offering the first lesson half off to all new students who express an interest in using their musical skills to help with music at their churches. Kimura's passion for worship music has prompted him to extend this special offer to those who wish to become worship leaders.
Currently, Dyce Kimura is serving as worship leader at his church, Lighthouse Community Church, in Fort Lauderdale, FL. For Kimura, using his talent as a guitarist for the glory of God through leading worship is the perfect fit. For years, he was a performer in the secular music world, and occasionally still plays in the community. But his passion for Christian music is strong and he wants to encourage anyone wanting to lead worship while helping them feel confident in their playing.
Kimura wants to help as many musicians as possible who desire to enter the world of Christian music. "This is a field of music that has a positive, yet challenging, influence on all those who are a part of it," he says. Kimura has a particular interest in assisting and teaching the necessary skills to those who wish to be worship leaders since this is what he currently does for his church.
Guiding others toward jobs like his own inspires not only the student, but Kimura himself. Seeing his students' passion for music and the church gives Kimura a refreshed interest in his own work. The students, in turn, receive the instruction of a teacher who understands their interests and whose greatest desire is to see them improve and succeed at reaching their goals.
For years now, Dyce Kimura has offered Fort Lauderdale guitar lessons to students of all ages and skill levels. Through his encouraging attitude toward teaching, his students progress well and receive the attention they need. Kimura began by teaching private lessons in his area, but through the use of video tutorials and as a Skype guitar teacher, Kimura has expanded his capacity for teaching to include students in other states as well as in other countries.
Fort Lauderdale guitar teacher Dyce Kimura began to play the guitar nearly 30 years ago. During the subsequent years, he has been a performer and teacher of both secular and Christian music. Kimura presently devotes his time to teaching more than performing, but he still performs at festivals and special events in South Florida.
Contact: 786-457-3687