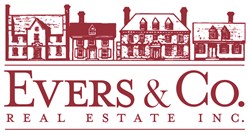 Washington, D.C. (PRWEB) February 14, 2014
The Washington D.C. real estate market grew exponentially during 2013, with average price within 5 percent of prices during the peak of the market in 2005 and dollar volume of sales within 16 percent. Evers & Co. Real Estate had a particularly successful year and increased its dollar volume of sales by 27 percent over 2012.*
"We are thrilled with our growth this year," says Donna Evers, president and broker of Evers & Co. Real Estate. "I think our success really goes to show that Washington, D.C. consumers like to buy from local brands. We were here 30 years ago, we are here today and we will be here tomorrow."
Evers expects 2014 will be another exceptionally strong year for real estate, especially in the spring season when most buyers are taking advantage of the warmer weather to browse sales.
Despite the fact that the market is still very much a sellers market, Evers said buyers who have been holding out should buy this spring because most of the annual sales occur between January and June of the given year. During that six-month period, the market typically experiences an increase in dollar volume of sales and an increase in home prices.

Statistics are taken from the Metropolitan Regional Information System for three areas: Washington, D.C.; Montgomery County in Maryland; and Fairfax County, Arlington, Alexandria and Falls Church in Virginia.
# # #
About Evers & Co.
Founded in 1985 by Donna Evers, Evers & Co. Real Estate, Inc. maintains its success through a strong referral base and agents who enjoy a premier reputation for their expertise and in-depth knowledge of Washington Metro Area homes and neighborhoods. Evers & Co. is home to more than 100 licensed real estate professionals with decades of combined experience, who enjoy access to a first-of-its-kind Agent Resource Center. The agency is the largest woman-owned and-operated residential real estate firm in the area and a member of Unique Homes Affiliate Network, Who's Who in Luxury Real Estate and FIABCI, the largest international real estate organization in the world. In addition, the agency has an alliance with My Home In Paris, a residential real estate firm in Paris, France. For more information about Evers & Co. Real Estate, visit http://www.eversco.com.