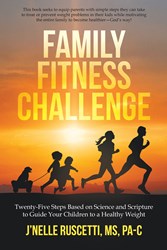 Parents are in the best position to change this trend and have the power to have the greatest impact on the health of their families.
Wilmington, NC (PRWEB) February 17, 2014
Today, 12.5 million American children are obese, which is nearly triple the rate since the 1980s, according to the Center for Disease Control and Prevention. "Family Fitness Challenge" by physician assistant and mother of four, J'nelle Ruscetti, is a guide that impacts the child obesity epidemic in the United States. In the book, Ruscetti empowers parents with a simple, step-by-step plan that challenges them to adopt habits medical research has linked to achieving and maintaining a healthy weight.
Ruscetti's book is based on her Family Fitness Challenge program, an 8-week child obesity prevention and intervention program for families committed to lifestyle change. In local community and school settings, the program has demonstrated a statistically significant reduction in the body mass index of children who start in an unhealthy weight category.
The "Family Fitness Challenge" book is a 25-step guide for parents to help their children achieve or maintain a healthy weight by focusing on habits that contribute to obesity. The book offers solutions to these harmful habits, such as:
− Improving sleep cycles in order to avoid deprivation's negative impact on weight
− Making parents aware of the effects media has on metabolism, sleep and puberty while discussing ways to make screen time more active
− Identifying and eliminating empty liquid calories that sabotage healthy lifestyles
− Changing from a sedentary lifestyle by giving pedometers to children
− Eliminating harmful snacking by teaching children about "snacks that grow"
− Teaching children the essential facts about nutrition
"Child obesity, and the complications that come with it, is a crisis that our current healthcare system can't afford." Ruscetti said. "Parents are in the best position to change this trend and have the power to have the greatest impact on the health of their families."
For more information, visit http://www.ruscettifamilyfitnesschallenge.com
"Family Fitness Challenge"
By J'nelle Ruscetti
ISBN: 978-1-49081-750-7
Available in softcover, hardcover, e-book
Available on Amazon, Barnes & Noble and WestBow Press
About the author
J'nelle Ruscetti earned her masters in science and has been a physician assistant in family medicine since 1997. She lives near the beach in Wilmington, North Carolina, where she spends her time outside the office participating in an active lifestyle with her husband, Howard, a family medicine physician in Carolina Beach, and their four children. Since January 2012, she has devoted a couple hours a week as a volunteer instructing the child-obesity intervention and prevention program she developed in her community.
###