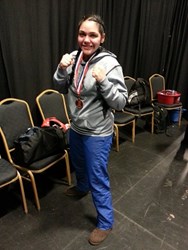 "I've learned about setting goals and achieving those goals at all costs. I'm so much more disciplined now."
Dobbs Ferry, NY (PRWEB) February 16, 2014
While most are just watching the Olympics, Mercy College Sophomore Krystal Correa is dreaming about being in the 2016 Olympics. The 20 year old Yonkers, NY native is vying for a spot on the next summer Olympic team for boxing. Correa just returned from the Olympic tryouts in Spokane, WA where she earned a bronze medal in her weight class. She is now ranked 4th in the country.
The nursing major said she originally started boxing to lose weight but has since fallen in love with the sport. "I love everything about it," said Correa. "I don't think of it as violent, I don't hate the woman I am fighting, it is just a sport and you have a job to do."
She also said that the sport has helped her academics: "I've learned about setting goals and achieving those goals at all costs. I'm so much more disciplined now."
As for all the bruises that she inevitably gets, the confident brunette calls them "warrior wounds."
To make the next Olympic team Correa has to place first at the tryouts next year. The 2016 Summer games will be held in Rio de Janeiro.
About Mercy College
Founded in 1950, Mercy College is a private, not-for-profit higher education institution that offers more than 90 undergraduate and graduate degree and certificate programs within five prestigious schools: Business, Education, Health and Natural Sciences, Liberal Arts and Social and Behavioral Sciences. Mercy College offers an engaging and personalized learning experience that includes the College's revolutionary Personalized Achievement Contract (PACT) program. The Mercy College PACT is the first program of its kind and now serves as a nationally recognized model for mentoring. http://www.mercy.edu/ 877-MERCY-GO.