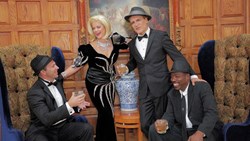 Miami Beach, FL (PRWEB) February 16, 2014
The Miami Blues Restaurant will channel a chapter of the golden age of Las Vegas when it presents Miami Rat Pack Show, "starring" Frank Sinatra, Dean Martin, Sammy Davis Jr. and Marilyn Monroe," on Valentine's Day .
The theatrical production based on the music and comedy of the legendary Rat Pack was conceived by Jack Crooner, the hottest entertainer in Miami area, whose voice is heard at the top of the show as he introduces the tribute show.
The Rat Pack returns as they appeared in 1960 when they were filming "Oceans 11" and performing at the legendary Sands Hotel in Las Vegas. Classic songs, such as "That's life," "Summer wind," "Fly me to the moon" and "Kick in the head," are performed. Sinatra himself dubbed the concerts "the summit of cool."
The set list also includes some original, never-before-heard songs written by the late songwriter Ron Miller, who wrote "For Once In My Life.
Show times are 9 p.m. Fridays and Saturdays, with doors open an hour before curtain. Reservations are required for the shows, but those attending must be 21 or older. The restaurant is located at 5445 Collins Ave. in Miami Beach.