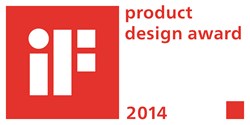 The iF design award demonstrates our intent focus on design aesthetics and usability, in both hardware and software, to make our products more stylish and friendlier than ever.
Taipei, Taiwan (PRWEB) February 18, 2014
Acer has scored four winning entries at the 2014 iF Product Design Awards. Organized by the International Forum Design of Germany and in its 61st year, the iF award logo has become synonymous for outstanding design around the world.
Acer's Aspire R7 notebook, Liquid Z5 smartphone, TravelMate P645 notebook, and K137 projector were selected as winners among 3,249 entries across 17 categories by some 50 global design experts. The award winners will be honored on February 28 at BMW World in Munich, Germany.
The meticulous design criteria taken into consideration include design quality, finish, choice of materials, degree of innovation, environmental impact, functionality, as well as universal design.
Acer Chief Marketing Officer, Michael Birkin said, "We have focused intently on our design aesthetics and usability, in both hardware and software, to make our products more stylish and friendlier than ever. Winning the iF design award demonstrates that the international design jury, coming from different disciplines and not limited to the IT industry, has recognized and rewarded our efforts in these areas."
The winning products and categories are:
Acer Aspire R7 (Computer category) – this is a notebook designed for touch featuring a 15.6-inch Full HD touchscreen. The revolutionary Ezel™ hinge moves the display forward closer to the user, and provides the right resistance so users can convert the display into different positions one handedly. Along with the repositioned keyboard, the Aspire R7 makes the combination of touching the screen, with calibrated touchscreen resistance, and using the keyboard more intuitive and natural for a seamless operation. The refreshed Aspire R7-572 is equipped with an Acer Active Pen and features a set of Acer Touch Tools apps that make the most of the unique touch experience.
The first generation of the Acer Aspire R7 has already won numerous awards including Red Dot, Design and Engineering Award – CES Innovations, Computex Design and Innovation, and Taiwan Excellence.
Acer Liquid Z5 (Telecommunications category) – this is an ergonomic and trendy smartphone with a supersized 5-inch screen, 16:9 aspect ratio, and front speaker with DTS tuned sound for a richer audio experience, making it ideal for mobile web browsing, social networking, photo/video taking and entertainment. The premium design features minimalistic curves for easy grasping in one hand and an 8.8mm thin profile in Essential White or Gentle Grey colors. The AcerRAPID™ design acts as a personal one-hand control allowing users to unlock and/or activate the screen, launch the 5-megapixel auto-focus camera, launch selected apps from the home screen, and pickup phone calls with a simple click.
Acer TravelMate P645 (Computer category) – this is the ideal mobile business partner. With a matte black exterior, this commercial notebook conveys elegance suited to the business environment, and robustness with the use of carbon fiber and aluminum magnesium alloy materials. The 14-inch Full HD screen with IPS and the latest technologies, including Near Field Communication, voice command and 802.11ac Wi-Fi, offers greater productivity. An integrated biometric fingerprint reader paired with a Trusted Platform Module 1.2 reader secures this system from unauthorized access. The lightness, long battery life, and an array of durability features give users a peace-of-mind on the go, while the optional ProDock with a wide range of ports gives expandability through a single dependable connection.
Acer K137 Projector (Audio/Video category) - this high-quality "everything-in-one" travel series projector is compact enough to fit into a small bag allowing users to take it anywhere with ease, and comes with powerful audio so there is no need to carry additional speakers. The LED lamp delivers 700-lumens brightness and features power-saving software to optimize energy use. With this device users can leave their computers at home, as it can project content directly from an inserted storage card. The instant-on/off feature saves time, and the MHL™ port can project the smartphone's content while charging it.
For more information about the iF design awards please go to http://www.ifdesign.de/.
About Acer
Established in 1976, Acer is an information and communication technology company dedicated to the research, design, marketing, sale and support of innovative products that enhance people's lives. Acer's green supply chain delivers environmentally friendly PCs, displays, projectors, servers, tablets and smartphones — tools our customers need to explore beyond limits and experience more. Ranked No. 3 for notebooks globally (IDC 2012), Acer employs 8,000 people, and 2012 revenues reached US$14.7 billion. Please visit http://www.acer.com for more information.
© 2014 Acer Inc. All rights reserved. Acer and the Acer logo are registered trademarks of Acer Inc. Other trademarks, registered trademarks, and/or service marks, indicated or otherwise, are the property of their respective owners.