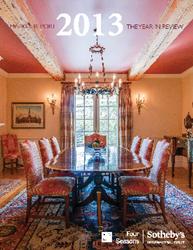 The overall New Hampshire real estate market outpaced 2012 this past year but there is still room for improvement in local markets.
New London, NH (PRWEB) February 16, 2014
Four Seasons Sotheby's International Realty, has produced its first Annual Market Report. It provides year over year market trends from 2012 to 2013 for the four main regions they serve; the Lake Sunapee Region, the Upper Valley of New Hampshire and Vermont, the Lakes Region and the Merrimack Valley.
New Hampshire posted gains in both unit sales of single family homes and average selling price (on average 4.2% over 2012) in 2013. "However real estate markets are local in nature and while all four markets we serve, did show year over year unit increases in single family home sales, three regions experienced lower average selling prices in 2013. Only The Merrimack Valley posted a year over year increase in Average Selling Price outperforming the state average," said Alan DiStasio the Managing Director of Four Seasons Sotheby's International Realty. "And within each region the results were mixed on a town by town basis. While some towns experienced double digit decreases in average selling prices; others saw double digit increases. These facts will play a significant role on how a homeowner should price their home and what a buyer should decide to pay for a new home in 2014."
DiStasio also added; "We believe the housing market in New Hampshire will continue to expand with moderate increases likely to occur in the luxury second home market. The overall pace of growth may become more moderate in 2014. However, the economy grew a total of 3.2% in the 4th quarter of 2013. The jobs outlook combined with pent-up demand continued home affordability and most importantly, rising consumer confidence are all expected to play a meaningful role in this year's real estate market."
For more detailed information including reports broken out by price point, please contact Alan DiStasio Managing Director.