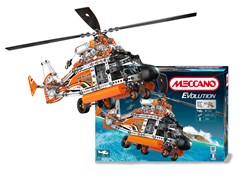 "Together, Spin Master Ltd. and Meccano-Erector have an astonishing 179 years of inspiring and entertaining children, and we are excited to continue the journey," says Ben Gadbois, Global President & COO, Spin Master Ltd.
Toronto, ON (PRWEB) February 17, 2014
Spin Master Ltd., Canada's largest children's toy entertainment company, is pleased to announce that it will re-launch the iconic construction brand, Meccano-Erector, this fall at Toys"R"Us®, the nation's leading dedicated toy and juvenile retailer. First introduced to customers in 2000, Meccano-Erector combines traditional construction play with mechanics, allowing avid builders – big and small – to create working models and mechanical devices.
Beginning in August, Toys"R"Us stores nationwide and Toysrus.com will offer its customers a range of brand-new construction sets, the broadest assortment of Meccano-Erector products in the market, including several exclusive items. The Freedom Tower, a Toys"R"Us exclusive and special edition set inspired by the 104-story-tall building in New York City, is set to launch during New York International Toy Fair with a grand-scale tower on display. This one-of-a kind item will only be available at select Toys"R"Us stores in New York, New Jersey and Connecticut and online at Toysrus.com.
"Together, Spin Master Ltd. and Meccano-Erector have an astonishing 179 years of inspiring and entertaining children, and we are excited to continue the journey," says Ben Gadbois, Global President & COO, Spin Master Ltd. "We felt that Toys"R"Us was the perfect retail partner to serve as the go-to destination for Meccano-Erector items, including exclusive construction sets."
"We are thrilled to join Spin Master in re-introducing the Meccano-Erector brand to the market, offering families the largest assortment of items," said Jamie Uitdenhowen, Vice President, General Merchandise Manager, Toys, Toys"R"Us, U.S. "Year after year, construction sets are a proven favorite among kids and kids at heart, and we look forward to giving our customers all-new reasons to once again fall in love with this nostalgic brand."
The Meccano-Erector brand continues to grow its legacy, allowing builders, both young and old, to bring their imaginations to life with educational, innovative and fun toys.
For more Information:
Spin Master Ltd.
Susie Adelson - Director, Earned Media
416-364-6002
susiea(at)spinmaster(dot)com
Toys"R"Us, Inc
Samantha Xenis
Corporate Communications
973-617-5306
Samantha(dot)Xenis(at)toysrus(dot)com
About Spin Master Ltd.
A multi-category children's entertainment company, Spin Master has been designing, developing, manufacturing, and marketing consumer products for children around the world since 1994 and is recognized as a global growth leader within the toy industry. Spin Master is best known for such popular brands as boy's action phenomena and 2009-2010 Boy's Toy of the Year winner Bakugan Battle Brawlers™, and award-winning brands Air Hogs®, Aquadoodle™, Spin Master Games™ including the popular Hedbanz™, Tech Deck™, Zoobles™ and SpyGear™. The company has also marked an entry into children's media with the launch of Spin Master Entertainment, a subsidiary focusing on the design, development and production of television and other media properties. Spin Master employs over 900 people with offices in Toronto, Los Angeles, London, Paris, Hong Kong, Mexico City, Munich, and Milan. For additional information please visit: http://www.spinmaster.com.
About Toys"R"Us, Inc.
Toys"R"Us, Inc. is the world's leading dedicated toy and juvenile products retailer, offering a differentiated shopping experience through its family of brands. Merchandise is sold in 872 Toys"R"Us and Babies"R"Us stores in the United States and Puerto Rico, and in more than 715 international stores and over 180 licensed stores in 35 countries and jurisdictions. In addition, it exclusively operates the legendary FAO Schwarz brand and sells extraordinary toys in the brand's flagship store on Fifth Avenue in New York City. With its strong portfolio of e-commerce sites including Toysrus.com, Babiesrus.com, eToys.com and FAO.com, it provides shoppers with a broad online selection of distinctive toy and baby products. Headquartered in Wayne, NJ, Toys"R"Us, Inc. employs approximately 70,000 associates annually worldwide. The company is committed to serving its communities as a caring and reputable neighbor through programs dedicated to keeping kids safe and helping them in times of need. Additional information about Toys"R"Us, Inc. can be found on Toysrusinc.com. Follow Toys"R"Us, Babies"R"Us and FAO Schwarz on Facebook at Facebook.com/Toysrus, Facebook.com/Babiesrus and Facebook.com/FAO and on Twitter at Twitter.com/Toysrus and Twitter.com/Babiesrus.