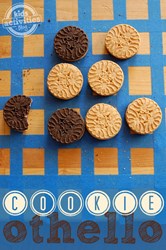 Let the kids have fun nibbling on the cookies during the game.
Dallas, TX (PRWEB) February 19, 2014
Ready to play board games? A fun homemade game with cookies and a DIY LEGO storage and play mat have been published on Kids Activities Blog. Let the kids have fun playing a board game with cookies.
Kids that are beginning to enjoy board games will enjoy the Othello cookie board game. Materials needed are blue painters tape, a wooden cutting board, and double sided cookies.
Make a grid with painters tape on your cutting board or even on a table top. Try to keep the sections roughly the size of the cookies. Make an even number of columns and rows.
Bigger game boards are better suited for older kids. If the child is new to games, give them a smaller grid.
Let them have fun playing the classic game of Othello which is also called Reversi. Make sure that the players are not sick since they will touch each others cookies and are allowed to nibble on them during the game.
Adults and kids alike will benefit from this great clean up LEGO and storage solution idea. Who would not want to clean up the LEGO mess in seconds? This project is a must for any LEGO crazy family if there is no space for a LEGO dedicated table in the house.
Before beginning the project decide about the size of the mat by considering the available play area in the living room and the amount of LEGOs in the house. Choose a sturdy fabric that can withstand hours and hours of wear and tear. Decorators fabric for upholstery and design are wider and sturdier than most regular fabrics.
After deciding on the size of the circle, let the kids figure out the circumference. The circumference will determine the size of the rope. A diameter of 5 feet for example requires a 16 feet rope.
Sew a 2 inch pocket around the perimeter of the circle and thread the rope inside it. Tie the rope ends together and ready is the LEGO storage and play mat.
For detailed instructions and to get additional fun ideas, check out Kids Activities Blog this week. Come get inspired to have a blast with the kids without the usual hassle of cleaning up.
About Kids Activities Blog
Kids Activities Blog is a website created by two moms (who collectively have 9 children), Rachel Miller and Holly Homer from June Cleaver Nirvana. It is their daily goal to inspire parents and teachers to play with kids. This interactive website publishes simple things to do with kids twice a day. Kids Activities Blog is a great tool for moms and teachers to find kid-friendly activities that create memories and sneak learning into the fun.