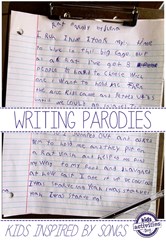 Use Minecraft parodies to get the kids to write.
Dallas, TX (PRWEB) February 16, 2014
Minecraft is one of the kids favorite games. The best Minecraft parodies and fun light games have been published on Kids Activities Blog. Get ready to use the kid's love of Minecraft as a learning tool.
Inspiring kids to write can be easily done with the fun Minecraft parodies on Kids Activities Blog. Let the child listen to one or all of the parodies. Explain to them how to write about a topic and how each sentence represents an idea.
The parodies are funny and will open up the child's imagination to write about his or her favorite thing. One will be amazed about what the kids will write about.
The fun light games will excite kids of all ages. There are so many cool ways to play with light. A lot of these would be a perfect boredom buster to keep around in case of a power outage. But even with no reason at all, these light games are simply fun.
Lean how to make neon rice. This cool activity uses black light inside a sensory bin. Another amazing idea is inserting glow in the dark sticks inside ordinary balloons.
Play the classic game of tic tac toe by using a package of glow in the dark sticks. This game is perfect for dark rainy afternoons at home. Try a fun science experiment in color mixing on the light table. Let the kids be amazed by watching colors change while bubbling at the same time.
For detailed instructions and to get additional fun ideas, check out Kids Activities Blog this week. Come get inspired to let the kids have a blast while learning.
About Kids Activities Blog
Kids Activities Blog is a website created by two moms (who collectively have 9 children), Rachel Miller and Holly Homer from June Cleaver Nirvana. It is their daily goal to inspire parents and teachers to play with kids. This interactive website publishes simple things to do with kids twice a day. Kids Activities Blog is a great tool for moms and teachers to find kid-friendly activities that create memories and sneak learning into the fun.