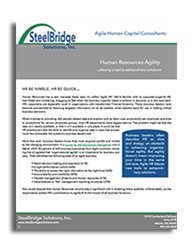 Becoming truly agile is a daunting new role for HR, one that goes beyond cutting corners or improving your time in the same old race. Agile HR blazes a trail to extraordinary solutions.
Atlanta, GA (PRWEB) February 16, 2014
Human Resources has a new mandate these days. It's called "agile HR." We're familiar with its opposite—ungainly HR, ham-fisted and lumbering, dragging its feet when the business urgently needs a solution, a resource, or a new approach. HR departments can no longer lag behind. They need to respond quickly and nimbly.
The white paper "Human Resources Agility" explains the importance of "organizational agility" for business success. It identifies traits of an agile business and how little HR is thought to contribute to agility. To shake this reputation as a stodgy business function, HR leaders must adjust to an "agile mindset," acting in a timely fashion to optimize positive outcomes under changing conditions. Included in the paper are examples of agility in winning organizations, which offer readers specific methods to bring to their businesses.
As HR takes on the daunting new role of becoming truly agile, this paper presents the three problems organizations in transition must address: the perception problem, the understanding problem and the execution problem. The creative solutions Google's People Operations (or POPS) provide is an example of an innovative culture that is possible when HR professionals shed old ways and characterize Agile HR.
To download the white paper, please visit our website.
About SteelBridge Solutions
With over 25 years of experience, our team of HR consultants help clients achieve dramatic improvements in HR Performance, Change Management and Organizational Transformation. Our proven business HR transformation/change methodology tools work, whether your business employs 200 or 200,000! Learn more or contact us at http://www.steelbridgesolutions.com.