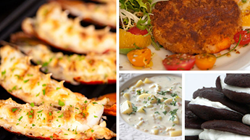 (PRWEB) February 15, 2014
Monday, February 17th is President's Day, and to help celebrate Lincoln and Washington, GetMaineLobster.com is offering a feast fit for Presidents – the Maine Lobster Tail and Chowder Feast – normally $231, now offered at $79 for a limited time.
Take advantage if this special, and enjoy 4 Maine Lobster Tails with Old Bay Butter, 4 Maine Lobster Cakes, 1 quart Maine Clam Chowder, 1 pound GML Homemade Mini Biscuits, 4 homemade Maine Whoopie Pies (a moist chocolate cake sandwich filled with a generous slathering of butter cream filling), all easily prepared at home with our cooking instructions.
If a brunch is more appealing, GetMaineLobster.com also offers this very Presidential recipe:
President's Day Maine Lobster Benedict (Serves 4)
For the Hollandaise Sauce, ingredients include ½ cup (1/4 pound) unsalted butter, 2 egg yolks, 1 tablespoon freshly squeezed lemon juice, dash of cayenne pepper, sea salt; remaining ingredients include 4 English muffins, split in half and toasted, 12 asparagus spears steamed until just tender, 1 pound cooked Maine lobster, 1 tablespoon butter, 8 eggs, poached.
First, prepare the Hollandaise Sauce: Melt the butter in a double-boiler on top of the stove. In a small bowl, whisk together the egg yolks, lemon juice, and cayenne pepper. When the butter has melted, whisk the egg mixture into the melted butter, stirring constantly and cooking until the sauce starts to thicken. Season to taste with sea salt. Remove the double boiler from the heat and keep the sauce warm over the hot water.
To assemble Maine Lobster Benedict: Toast the English muffins and place 2 halves on a plate. Cut the steamed asparagus spears in half, and place 3 halve-pieces on each English muffin half. Sauté the Maine lobster in 1 tablespoon of butter until it is heated and place portion on top of the English muffins. Top each muffin half with a poached egg, and dollop the Hollandaise Sauce on top.
A note on Hollandaise Sauce: Home cooks fear to make Hollandaise Sauce as often the fat from the butter and the protein from the egg yolks separate and the sauce breaks or curdles. If this happens, don't despair. Add a few teaspoons of the hot water from the double boiler mixture to the sauce to emulsify it, and whisk to make sauce smooth again.
About GetMaineLobster.com
GetMaineLobster.com, a division of Black Point Seafood and Black Point Gourmet, hand-selects the finest Maine lobster, seafood and beef products for convenient distribution throughout the United States. Their passion is to make fresh, quality seafood readily available to customers across the country, which is why they buy from only the most trusted, well-established suppliers to ensure that they receive the finest products available.
GetMaineLobster.com was selected out of the more than four million small American businesses served by Chase bank to represent its new Platinum Business Checking product for its 2013 national advertising campaign.