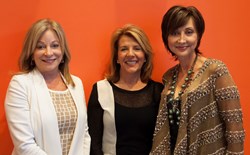 Scottsdale, AZ (PRWEB) February 14, 2014
Martz Parsons today announced the appointment of seasoned events veteran Marissa Creager. Creager, after a successful 30 year career as the founder and owner of Parallel Management, will join the Martz Parsons team as vice president of special events and will spearhead the Agency's expansion into event marketing. The addition of an event marketing division is part of a strategic plan for the firm to offer all marketing services needed by its clients under one roof.
With Marissa Creager at the helm, the new division will support the conceptual design, planning, promotion, execution and public relations requirements for high-impact events. Backed by other Agency services, including those provided by the newly formed digital marketing division, existing and future clients will be able to efficiently and effectively leverage events to deliver their brand message.
Over the years, Creager has been the chief production and project manager for a number of high profile clients, including Neil Diamond. Some of the notable projects she has supported include Super Bowl XLII, World Wild Life Fund's Earth Hour, Phoenix Celebrity Classic Golf Tournament, Major League Baseball's 2011 All Star Weekend and Celebrity Fight Night. Additionally, she has held the position as Chairperson for the 13th annual Phoenix Suns Celebrity Waiters Happy Hour and co-directed the Gene Autry Courage Awards.
"Special events are a great way to introduce a product or service through a uniquely branded high-touch experience," said Marissa Creager. "Well-planned and successfully executed, the impact of an event is huge … typically reaching more than three-times the actual attendance via word-of-mouth. Factor in social media and that number grows exponentially!"
It has been repeatedly proven that event attendance has a positive impact on brand equity. According to a report by the Event Marketing Institute, 98 percent of those exposed to a product will recommend that product to others after a positive experience.
The recent expansion into event marketing has already resulted in Martz Parsons securing a new account. Creager will manage the production of "Pop! Goes Rochelle," an inaugural event held at the Country Music Hall of Fame Museum in Nashville, TN. The theme this year, "Hay Y'All! An All-Star Tribute to Hee Haw," will feature a simulated taping of the classic television show and will be hosted by country music superstar Pam Tillis. The show will include performances by legendary country music artists Lorrie Morgan, Joe Diffie, Craig Morgan, Jim Lauderdale, the Warren Brothers and others.
About Martz Parsons
Martz Parsons, a YAM Worldwide business is one of the top 20 advertising and public relations firms in Arizona with more than 30 years of experience. Martz Parsons provides a full range of marketing and public relations services to the agency's diverse clients. The full-service agency offers local, national and international advertising and strategic marketing services such as creative, media, branding, promotions, collateral, social media, research and interactive media.
About YAM Worldwide, Inc.
YAM Worldwide is based in Scottsdale, Arizona. Privately held since its formation, YAM Worldwide, Inc. employs more than 225 Arizonans and 70 Mississippians. The company is home to the entrepreneurship operations of Bob Parsons, best-known as the founder and executive chairman of GoDaddy, in the fields of power sports, golf, real estate, marketing, innovation and philanthropy.
Core businesses include LZ Delta, L.L.C. which owns Harley-Davidson of Scottsdale, Go AZ Motorcycles and Spooky Fast Customs, MS LZ Delta, L.L.C which owns Southern Thunder Harley-Davidson and alternate retail outlets Graceland Harley-Davidson and Blues City Harley-Davidson, Scottsdale National Golf Club, MP Agency, L.L.C., YAM Capital, The Bob & Renee Parsons Foundation and eight commercial real estate properties in the greater Phoenix area.