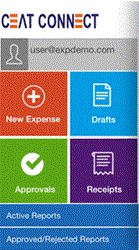 Los Altos, CA (PRWEB) February 17, 2014
SutiSoft is pleased to announce the launch of its flexible online expense reporting solution that supports mobile devices for CEAT, a leading tyre manufacturing company.
SutiSoft Inc., a trusted provider of easy to use cloud-based and mobile business solutions, today announced the release of its mobile expense software, SutiExpense for CEAT. SutiExpense mobile makes it easy to create expense reports even on the go. It supports most smart phones used by businesses today.
With SutiExpense, capturing of all expenses is simplified. It allows creating and submitting expense reports and approving expense reports. Using the camera on the mobile device, users can simply snap a picture of their receipts and attach them to an expense report easily. Manage your travel bookings, expense reports and reimbursements at one place even when you hit the road.
For more details on our business solutions http://www.sutisoft.com/sutiexpense or contact Raj Misra at 1.650.396.7203 ext. 420 or e-mail media(at)sutisoft(dot)com.
About SutiSoft:
SutiSoft provides a comprehensive suite of cloud-based business management solutions for companies of all sizes. The suite includes scalable and easy-to-use solutions for HR, payroll, employee travel & expense, ERP, CRM, document management, business data analytics, and electronic signature. This allows small, mid-size, and enterprise customers to control costs and save time through use of integrated solutions. Headquartered in Los Altos, California SutiSoft also has regional offices in Germany, India, and Japan. Additional information is available at http://www.sutisoft.com.