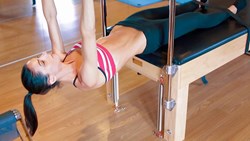 You don't have to write little notes to yourself to remember to sign up for classes.
(PRWEB) February 23, 2014
To use the new online automatic payment system, Inner Strength Pilates clients simply log-in with their email address and password. They will then be taken to the company's Online Store where they can choose from the type of 'contract' (ie group of classes) they prefer in terms of time and exercise type. A full explanation of how to do this can be found on the Inner Strength Pilates blog post How To Set Up An Auto Pay Contract With Inner Strength Pilates Adelaide.
How it works. When someone chooses a block of 10 Barre classes, they can choose to have that purchase automatically repeated once the last class in the initial purchase is completed.
This auto-renewal facility, which is also explained in the YouTube video How To Set Up an Auto Pay Contract With Inner Strength Pilates Adelaide would save them having to sign up every time their current subscription expired.
Gollan explains how easy the system actually is.
"All we need is your billing information and your contact email, address, and then you can just go ahead and place your order," she says.
"It really is as simple as that. What we think really works really with this system is the fact that you don't have to write little notes to yourself to remember to sign up again for a new batch of classes. It's going to do it for you.
"But don't feel panicked thinking you can't cancel – you can get out of the contract whenever you like. It's not a case of being locked in for a certain amount of time at all – which I know is how many people interpret these kind of arrangements."
Inner Strength Pilates offer Pilates, Barre and Allegro Reformer classes. Their Individualised Pilates Group Classes consist of a maximum of five clients to ensure everyone who attends has their particular needs addressed.
The Barre Classes, which consist of exercises practiced by Madonna and Natalie Portman, are carried out in time to high energy dance music. The classes differ in intensity depending on what stage the participants are at.
Allegro Reformer Classes involve using the Reformer machine alongside others with the classes designed to increase heart rate and burn fat. These classes are especially effective for cardiovascular fitness and suit all levels from beginner to elite athlete.
Gollan runs the classes, which take place in her two studios in Adelaide's King William Road area, with her two qualified instructors. Clients aged 12 or over are welcome to attend the classes.
To read up more about the different forms of exercise and the philosophy of the company, as well as Gollan's motivations, at her Pilates and Barre website. or check out her Facebook page.