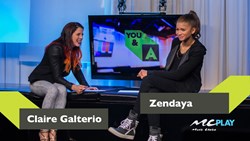 New York, NY (PRWEB) February 21, 2014
Music Choice Play (play.musicchoice.com) is getting ready to shake up your weekends with a new weekend block of shows premiering Saturday, February 22nd at 10:30AM ET. These new shows solidify the network's commitment of connecting millennials with music culture through compelling content designed for a social generation. Each show creates dialogue amongst fans and connects them with the artists they love and want more of.
The network will feature an action packed programming block on Saturday and Sunday from 10:30AM-1:00PM ET, reaching millennials at home where they engage most. The network's weekend program block will be anchored by new episodes each Saturday of its popular music show, You & A. To celebrate the weekend block launch, You & A will feature pop singer Zendaya and rapper Kirko Bangz in the season premiere on February 22nd at 12:30PM. Artists featured in the first season included Karmin, Cody Simpson, Mel B, Daughtry, TLC, and R5.
Shows making their debut include Class Battle, Double Down and Who's On Top? Each show offers viewers more chances to connect with artists, decide what plays next and ultimately be on TV. New shows include:
Class Battle – Premieres Saturday, February 22nd at 10:30-11:30AM ET
It's all about old school vs. new school, and these battles are heating up. Only you can decide if it's out with the old and in with the new, or if these throwback videos still have what it takes. #ClassBattle
Who's On Top?– Premieres Saturday, February 22nd at 11:30AM-12:00PM ET
Its guys vs girls in a musical battle of the sexes! You decide which video should be "on top." #WhosOnTop
You & A– New Time, Premieres Saturday, February 22nd at 12:00-12:30PM ET, **Zendaya & Kirko Bangz To Be Featured in February 22nd Show
On You & A, we're interviewing your favorite artists, but only fans decide what questions we'll be asking! See what artist will be live on the next episode of You & A, then, head over to Twitter and tweet your question for them @MusicChoicePlay along with #YouandA.
Double Down- Premieres Saturday, February 22nd at 12:30-1:00PM ET
Your favorite artists are squaring off against their toughest competition… themselves. 2 videos from the same artist compete to see who gets the most votes.
#DoubleDown
Music Choice Play is a music video, lifestyle and entertainment network for Millennials, offering them a unique live television and social media experience. Viewers interact with Music Choice Play through Twitter by voting for what videos get played and tweeting live with their favorite artists on shows like You & A. The network features music videos from today's hottest artists like Bruno Mars, Miley Cyrus, Macklemore, Beyoncé, Demi Lovato, and One Republic. Music Choice Play offers a full web, mobile and second screen experience at play.musicchoice.com. The website features a live stream of the network, the ability to seamlessly submit your video to control the network, and a substantial social presence. Music Choice Play also has dedicated mobile apps that enhance the viewing experience.
Music Choice Play is currently available throughout the US via several providers including AT& T U-verse®, Cox Communications, RCN, Suddenlink, Verizon FiOS, and many more. For more information, log on to http://www.MusicChoice.com.