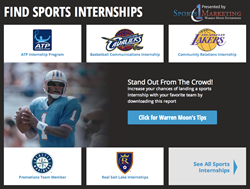 "At Sports 1 Marketing, we recognize that interning and career training are a crucial element for success in the sports industry. We're thrilled to offer our expertise and training to the next generation of sports industry leaders." - David Meltzer, CEO
Los Angeles, CA (PRWEB) February 19, 2014
Sports 1 Marketing, the sports and entertainment marketing company founded by NFL Hall of Fame Quarterback Warren Moon and CEO David Meltzer and Internships.com, the world's largest internships marketplace, today announced the launch of a sports internships microsite: http://www.internships.com/sports.
Through the sports internships site, students and job seekers looking to enter the sports industry will now have access to hundreds of world-class sports internship opportunities as well as custom career content and resources tailored to success in the business of sports.
The new microsite will enable seekers to search and apply for hundreds of new sports internship opportunities, including listings from the ATP World Tennis Tour, MLS finalists Real Salt Lake, MLB's Seattle Mariners, NBA teams such as the Los Angeles Lakers, Cleveland Cavaliers, and Brooklyn Nets as well as professional and collegiate athletic associations.
The site will also feature professionally created sports career content and resources – including tips and tricks on breaking into and succeeding in the sports business from Moon and Meltzer, to ensure that internships seekers are prepared with the skills and know-how to gain an edge in the hyper-competitive sports industry.
"At Sports 1 Marketing, we recognize that interning and career training are a crucial element for success in the sports industry. We're thrilled to offer our expertise and training to the next generation of sports industry leaders," said David Meltzer, the CEO of Sports 1 Marketing.
The sports industry is considered to be one of the most competitive industries in the United States, according to data from the Occupational Information Network (O*NET), a U.S. Department of Labor database full of detailed information on occupations and the partnership between Sports 1 Marketing and Internships.com will aim at increasing opportunities and training for those looking to compete.
"Through our partnership with Sports 1 Marketing we'll afford our millions of student users the opportunity to discover new sports internships and break into the highly competitive sports industry," said Robin D. Richards, CEO of Internships.com.
Those interested in pursuing a career in the sports industry can now visit http://www.internships.com/sports and discover new opportunities.
About Internships.com
Internships.com, a division of CareerArc Group, is the world's largest internship marketplace bringing students, employers and higher education institutions together in one centralized location. Recognized by Forbes as a Top 10 Careers Website, Internships.com provides a wide variety of interactive, world-class tools and services to enable every student, employer and educator to better understand and optimize internship opportunities. For additional information about posting 2014 summer internships please visit: http://www.internships.com
About Sports 1 Marketing
Founded by Warren Moon, Pro Football Hall of Famer, and David Meltzer, Former CEO of Leigh Steinberg Enterprises, Sports 1 Marketing (S1M) is a sports and entertainment marketing company that maximizes the value of its clients and properties. Among other pursuits, S1M specializes in marketing individuals - elite current and legendary athletes, coaches, and A list entertainers - for product promotion and off-the field activities and events as well as marketing products by the use of these same individuals. S1M takes great pride in partnering with both individuals and corporate brands possessing the same moral character and integrity that S1M employs in its daily operating ethics.
In addition, with over 35 years in the sports and entertainment industry, S1M continues to act as executive producers as well as offer consulting and technical advising services, financing and product placement for movie, television and media projects.
One of S1M's greatest assets, however, are the people in the company, and S1M takes great pride in its popular internship program, encouraging the education and training of individuals looking to make their way into the field of sports. Equally important is S1M's business philosophy. S1M is determined to make a difference in the community both directly and by aligning athletes and brands with charities that complement one another.