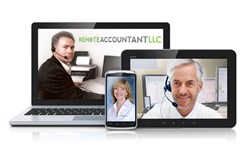 It's a clear loss for the IRS, and for some taxpayers, it's a tremendous loss,
New York, NY (PRWEB) February 17, 2014
The national accounting bookkeeping and tax firm Remote Accountant LLC is dedicated to protecting its clients' financial investments. Their mission is to provide outstanding service to individual taxpayers, entrepreneurs, and small businesses; adhering to the principles of professionalism, responsiveness, and quality. In light of the recent Loving vs. IRS ruling (case No. 13-5061) it has become paramount for small businesses to acquire dependable tax servicers.
Today an appellate court denied the Internal Revenue Service (IRS) authority to regulate commercial tax return preparers. "It's a clear loss for the IRS, and for some taxpayers, it's a tremendous loss," says Lawrence Gibbs, a former IRS commissioner and lawyer at Miller & Chevalier in Washington, D.C. The IRS planned to require tax return preparers to take a certified examination, pay annual fees, and participate in recurring educational courses regarding taxation; in an attempt to address tax preparer fraud. To read Gibbs' full commentary visit /taxanalysts.com/www/features.nsf/Articles/4BA073DF99225D5F85257C0B00622847.
In response to the IRS' impending tax preparer stipulations three independent tax return preparers, represented by the Institute of Justice, hastily filed suit, resulting in Loving v. IRS. Loving claimed that the new regulations would exceed the IRS' authority, and the court ruled in Loving's favor. For the full Forbes' article refer to forbes.com/sites/ashleaebeling/2014/02/11/appellate-court-delivers-blow-to-irs-and-taxpayers-nixing-tax-return-preparer-regs/. The Court of Record can be found here.
H&R Block's CEO Bill Cobb, who has recovered from delaying thousands of refunds in 2013, has made a statement regarding the ruling: "It is outrageous that all consumers don't enjoy basic protections with such a significant financial transaction as tax preparation," he said. For further commentary refer to reuters.com/article/2014/02/11/usa-tax-preparers-idUSL2N0LG12O20140211.
Understanding how to yield the greatest return of every tax dollar is an extensive job, especially when tax preparers herald questionable accounting backgrounds. As rates, incentives, breaks, penalties, and court rulings vary the nature of accounting, it is imperative that individuals and small businesses secure professional financial advisory stability. The specialists at Remote Accountant LLC understand that taxpayers work hard for their money. They ensure that clients retain every eligible dollar by keeping up with tax changes, and by offering financial planning to secure future savings.
The experts at Remote Accountant LLC utilize the latest cutting edge technology to serve its clients, including live video chat, encrypted pc to pc log on for automatic updating, so that accounting, bookkeeping, and tax filings are streamlined. Remote Accountant LLC provides a wide range of services which can be found on their website at, or on their firm introduction video.