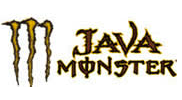 Being recognized for his raw talent at age 8, Pinky opened his first art exhibit in Japan.
Corona, Calif (PRWEB) February 14, 2014
Java Monster is spreading the love again this Valentine's Day with hand-painted limited edition Java Monster cooler bags designed by internationally renowned artist Pinky Taylor. For the collaboration, the South African artist, who now resides in Long Beach, Calif, painted his identifiable signature pop art designs with a unique Japanimation influence contrasted in vibrant colors on 100 limited edition cooler bags.
Being recognized for his raw talent at age 8, Pinky opened his first art exhibit in Japan. Since then he has gained recognition from his unique artistic style that portrays childhood images of his interpretation of created characters who mirror typical situations including their take on life, friends and the influences of good and evil in an expressive and literal manner.
Incorporating his original works on a variety of mediums from the streets to canvas and clothing to surfboards, Pinky's art is catching hype on all sides and can be seen from coast to coast on walls, tees, collaborations with influential fashion and lifestyle brands, and in the underground art scene. He is legit and his work is in high demand.
Java Monster is running a Facebook promotion where fans can have their own opportunity to receive a limited edition Pinky Taylor Java Monster cooler bag. 'Like' Java Monster's page for your chance to enter the contest and win a Pinky Taylor cooler bag: http://www.facebook.com/JavaMonster.
For more information on Java Monster, go to http://www.monsterenergy.com or visit http://www.facebook.com/JavaMonster.
To see all of the extensions of Pinky Taylor in his many forms of art (painting, sculptures, videos, photography, collaging, and more check out his Instagram at PinkyTaylor, Vine at PinkyTaylor, and his website at http://www.PinkyTaylor.com.
###
About Java Monster:
Based in Corona, California, Java Monster is coffee done the Monster way. Java Monster's premium coffee and cream offers the perfect mix of ingredients. Brewed with killer flavor and supercharged with the Monster Energy blend. Java Monster Personalities include Mean Bean, Loca Moca, Kona Blend, Vanilla Light, and Irish Blend; all created to satisfy whatever mood suits your lifestyle. See more about Monster Beverage Corporation including all of its drinks at http://www.monsterenergy.com.