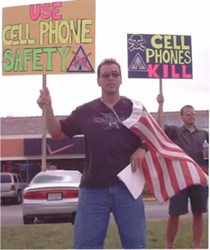 Studies that say there is no risk of brain cancer from cell phones are little more then a red-herring - a distraction from the truth and therefor our ability to protect the public
San Francisco, CA (PRWEB) February 17, 2014
In response to recent news appearing online that cell phones do not cause cancer – RF Safe says, "There are major shortcomings to validate claims by the MTHR study that cell phones are safe, especially for children."
The study in question was done with support from the wireless industry as the Mobile Telecommunications and Health Research Programme (MTHR). The full report can be found here http://www.mthr.org.uk/documents/MTHRreport2012.pdf
RF Safe's Founder John Coates strongly disagrees with the February 14th 2014 headlines in the news and wants to remind cell phone users to "beware of disinformation and propaganda" that undermines the public's health and safety. "There are many shocking claims being made in the news - very irresponsible to say there is NO Cancer Risks from cell phone radiation based on a 10 year study which is very weak in substance," he says.
Cancer can take several decades to develop after exposure to human carcinogens. Hypothetically, one has to argue that using only a ten year study skewed by industry insiders on tobacco use for cigarettes, and smoking could be considered cancer-free too. It is easy to agree this is a major shortcoming to validate claims that cell phones are safe, especially for children.
The MTHR study claiming cell phone radiation does not cause cancer looked at childhood leukemia, but it's well-known that brain cancer has surpassed leukemia as the number one cancer killing children ages 20 and under according to the Brain Tumor Foundation of Canada 11/05/2013 http://www.braintumour.ca/2494/brain-tumour-facts – and this shocking fact that brain tumors have increased at this astounding rate in just the past ten years to overtake leukemia correlates well with an increased use of cell phones and children. "The MTHR study is a classic case of getting everyone to look where it's not – a masterful red-herring to War-game genuine scientific research that has already proven a link between cancer and cell phone radiation," Coates says.
Research published by Dr. Lennart Hardell in The International Journal of Oncology September 24, 2013 http://www.spandidos-publications.com/10.3892/ijo.2013.2111 The official technical abstract of this study indicates that brain tumor risk increases with more years of cell phone use. Proving the effects of cell phone radiation are cumulative with more hours of use, those with the most usage had a 300% increase in having a brain tumor on the same side as a cell phone was most used.
In response to these claims being made from studies partly funded by the wireless industry that cell phones are not a health hazard, RF Safe has started a "Public Registry of Illness/Deaths Caused From Cell Phone Radiation"
Coates said "RF Safe's public registry is showing the negative effects of cell phone radiation. It's a move so the victims' voices can be heard over the nonsense being reported that there are no heath effects from cell phone radiation, as the cell phone industry would like everyone to believe".
It's already a success as people harmed by cell phone radiation are coming forward to let the public know the truth about the potential hazards of exposure to radiation from wireless devices.
This data names individuals that have lost their lives to brain cancer which is suspected from occurring from cell phone use. Others claim to suffer daily from sensitivity to the exposure of artificial high frequency electromagnetic radiation.
Coates said he was one of the first to join the registry as he believes his wife's occupational exposure to microwave radiation attributed to the birth defect that took his daughter's life in 1995.
Coates says "The wireless industry's tactics have turned this into a war of disinformation that downplays the need for cell phone radiation safety accessories. To stay safe cell phone users need to gear up with protection from phone radiation and reduce excessive exposure as much as possible – it's better to be safe than sorry."
RF Safe offers consumers of wireless products several ways to reduce microwave radiation from cell phones.
RF Safe has everything from stylish radiation free air-tube headsets, and flip cases that work as deflective microwave radiation shields between a users head or body and cell phone. Even special silver plated microwave radiation shielding fabric is available that allows users to make their own cell phone shields.
Learn more and keep up-to-date on the hazards of cell phone radiation at http://www.rfsafe.com