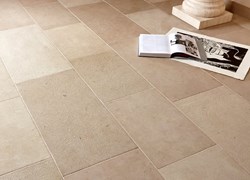 We have more vignettes in three dimensions. This helps our clients visualize the finished stone product better.
Chicago, IL (PRWEB) February 19, 2014
Materials Marketing has long prided itself on providing a fashion forward and up to the minute selection in stone, tile and mosaics for a discerning clientele. After over 25 years in the Chicago market, MML feels especially close to the design community there. As such, it was time to update the flagship location at 1234 West Fulton Market.
Jim Rymer, the MML CEO, understood the problem of keeping a flagship location current by stating that "Chicago did not speak to who we were anymore." In particular, Jim pointed out that the 2012 MML acquisition of the A.J. Brauer Stone Company in Jarrell, Texas needed to be better showcased. Jim said that "we put together a Brauer room in the Chicago location. We needed to emphasize the total capabilities of the Texas quarry."
In very real design terms, long time MML veteran designer Michelle Labriola addressed the showroom update,"we have incredible new displays of architectural elements showing columns, fireplaces and a kitchen hood that displays my new favorite color- Charcoal."
Materials Marketing started out with just a single location in San Antonio, Texas in 1962 and has expanded to 10 showrooms across the country. They are the only architectural stone and natural stone flooring supplier in the U.S. that owns and operates their manufacturing facilities.
Designers, architects, builders and consumers interested in learning more about Materials Marketing should see the contact information above or visit the company website at http://www.mstoneandtile.com.