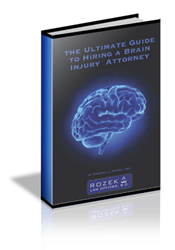 Brain injury victims are perhaps the most vulnerable and susceptible of being pressured and misled by injury lawyers with little or no experience in representing TBI survivors. This book educates them in order to avoid hiring the wrong lawyer.
Milwaukee, WI (PRWEB) February 26, 2014
Milwaukee Attorney, Randy Rozek, has authored a brand new informational booklet designed to help brain injury survivors and their families navigate the complex process of hiring an attorney following a brain injury. The Ultimate Guide to Hiring a Brain Injury Attorney is being offered to victims of brain injuries at no charge.
The Ultimate Guide to Hiring a Brain Injury Attorney highlights the following key points:

Simple ways to spot a misleading attorney advertisement
How to know if an attorney is putting your case in the best position to settle for the highest amount of recovery and compensation as possible
4 essential ways to ensure your treating physician medically documents all of your symptoms following a brain injury
How a "no-fee-unless-you-win" promise can end up costing you thousands of dollars—even if you lose your case
Why some brain injury survivors receive more favorable healthcare and rehabilitation treatment, even if they lack insurance coverage
57-point brain injury checklist and a 21-question cheat sheet for interviewing prospective attorneys
This guide is written in ordinary and readable language, not legal jargon. The main goal of this book is to help the brain injury survivor find the right attorney for their case, after all the right attorney for the brain injury survivor can make all the difference. The guide achieves this by detailing the qualities to look for in an attorney, and the characteristics to avoid at all costs. Amidst misleading advertising and false promise-making, it is essential to any brain injury survivor to read this guide while going through the process of hiring an attorney to represent them.
Order Your Free Copy of The Ultimate Guide to Hiring a Brain Injury Attorney Today!
About Attorney Randy Rozek
Randy Rozek has been recognized as a leading expert on brain injury law, with an extensive knowledge of the medicine and the law. He has been a licensed attorney since 1996 and has successfully represented brain injury victims nationwide. He is regularly invited to teach other trial lawyers how to successfully represent brain injury survivors. Randy Rozek is a member of the Million Dollar Advocates Forum, American Association for Justice – Traumatic Brain Injury Litigation Group, North American Brain Injury Society and the Brain Injury Association of America. Follow this link for more information about Wisconsin Personal Injury Attorney Randy Rozek.
Learn more information about Traumatic Brain Injury on web.
Rozek Law Offices, S.C.
407 W. Silver Spring Drive
Milwaukee, Wisconsin 53217
Telephone: 414-374-4444
Toll Free: 888-A-LAWYER (252-9937)
Facsimile: 414-918-8644