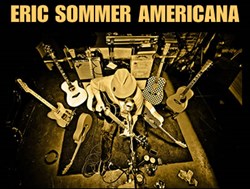 Our thoughts and prayers go out to Eric Sommer, his crew and family and we wish him a safe and swift recovery...Cindy BallmerMedia Shares, LLC
Nashville, Tennessee (PRWEB) February 21, 2014
Eric Sommer, Pop Americana Star and premier American guitar slinger, held over in Nashville for an extended stay.
For all the wrong reasons.
On Thursday afternoon, January 30, as Mr. Sommer was heading to a Friday night show in Dallas, Texas at The House of Blues, a reckless driver traveling at high speed, rear-ended his Chevy Blazer on Rt. 40, Music Highway, just west of Nashville.
The impact was so violent that Eric Sommer and his Chevy S-10 Blazer, 15,000 miles short of 500,000, went airborne, slammed sideways into an 18-wheeler semi, rolled three times and landed upside down on the roof, crushing the cab, and slid along the roadway for 100 yards, upside down...
Traffic was stopped on Rt. 40 for 20 miles, and it took hours to clear the glass and debris field from the roadway.
The Blazer was crushed and the windows shattered, so Mr. Sommer crawled out of the cab on his back from the drivers side window, which was crushed to around 8" high, with a collapsed lung, crushed, bruised ribs, blood, glass and shattered debris everywhere. The gear and guitars remained in the back of the Blazer, shattered and shaken by the violent impacts.
Mr. Sommer was rushed by Smith County EMS to University Medical Center in Lebanon, Tennessee. Dr. McFarland, the ER Surgeon on duty that evening, was able to stabilize Eric Sommer, work on the collapsed lungs, sew up the lacerations and torn skin and place Mr. Sommer in a private room to recover.
Eric Sommer was discharged Sunday morning, February 1st, and moved to The Walton Hotel in Carthage, Tennessee to recover from this terrible accident and make plans to move forward. Friends and fans can help by visiting Eric Sommer Recovery Fund or by purchasing this American Artists' work at iTunes or CDBaby.
Then take a moment and get familiar with one of the most intriguing American singers and writers currently on the National stage. Mr. Sommer has been playing and singing, writing and performing for years, traveling alone along America's highways and side roads, gas stations and bus stops, writing and singing about the vanishing "open road". It's clear his songwriting and singing chops are all there in spades.
These songs are visual fabric to the American narrative of freedom and creative expression, making message and content work effortlessly with technical skill and musical inventiveness. But the kicker is Eric Sommer is one of the most innovative open-tuning, slide and pickin' guitar players in the country. It's a remarkable combination. There are very few players who have maintained this authentic American style of guitar and Eric Sommer is one of the very best.
With open tunings, slide guitar, lap-slap tone guitar and a remarkably aggressive fingering style approach, watching Eric Sommer will make you jump out of your seat and holler for joy. And the songs, the words and the lyrical quality belie a deeply sensitive approach to documenting cast-aside events and recording the human experience in any and every way possible.
_______________________________________________________________________________________
For Music Samples, please visit Eric Sommer online for additional schedules or contact him at eric(at)ericsommer(dot)com or call 202-255-1995. Additionally, you can find Eric Sommer on Facebook(dot)com/ericsommermusic and Twitter @itsericsommer. Rainy Day Karma is also available on iTunes and CDBaby.
Eric Sommer is represented by Clyde is Thinking, and PR programs are managed thru MTG/NY. For more information, promo/appearance requests or to set up an interview, please contact Tom Monihan 202-255-1995.