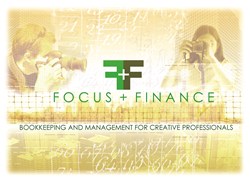 Lou Sagar joins forces with Focus + Finance!
New York, NY (PRWEB) February 17, 2014
Based in Brooklyn, Focus + Finance provides bookkeeping and business consulting, having found a niche providing financial services exclusively to creative industries. Now Focus + Finance has expanded the services it can provide by teaming up with social media strategist Lou Sagar.
Focus + Finance is the brainchild of Debbie Davies, a multi-media visual artist who has experience in photo shoot production, artist representation, marketing, and advertising. She has provided financial services to creative professionals in New York for over 15 years, guiding her team to be sensitive to the unique needs of creative business.
For the past twelve years, Lou Sagar has concentrated on advising a diverse range of clients as a business consultant, lifestyle trend observer and social strategist. The combination of Lou's experience in retail merchandising, brand development, and web-based technologies makes him uniquely suited to advise and support a multitude of needs. He has an exceptional understanding of digital technologies, social media, and its impact on e-commerce and user engagement. Notably, assignments have ranged from small entrepreneurial start-ups, to larger entities, and high profile experts. Engagements have included working with ABC Home, Eileen Fisher, Evolver.net, Etsy, Museum of Arts and Design, Tumblr, and Zappos.
Photographers, designers, producers, stylists, and visual artists require communication with a financial and business management team who understands their business, and how best to service their needs, without taking the focus away from artistic work. Now, with the partnership between Focus + Finance and Lou Sagar, creative professionals may receive a broader range of services to guide them through the labyrinth of running a small business, and to evolve.
Both Lou Sagar and Focus+Finance have re-launched their websites, listing new services.
Lou Sagar http://www.lousagar.com
Focus + Finance http://www.focusandfinance.com