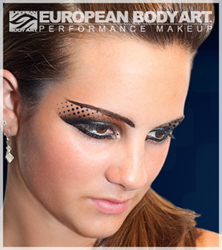 (PRWEB) February 18, 2014
Exciting news for makeup artists and special effects makeup users. The performance makeup and airbrush accessories industry leader, European Body Art has recently launched their new makeup stencil collections called Tri-Edge and VersaFX. These new makeup stencil designs use triangular proportions to give artists the ability to use stencils in hard to reach places while applying unique special effects makeup. These patent-pending stencil patterns are just a few of the high performance makeup tools European Body Art makes and sells to the public.
The Extreme Beauty stencil collections offers lace designs, camouflage patterns, cracking and dripping effects, avant-garde runway looks, and much more all while producing the clean lines that templates create. Makeup artists can now choose over 50 different stencil designs for beautiful high fashion makeup and extreme eye makeup techniques that EBA clients expect and demand.
"They were created and inspired by futuristic, retro, and even filigree looks," says Jaro Turek, owner of European Body Art, "and give professional makeup artists the ability to apply extremely intricate designs with an easy application."
EBA manufactures, distributes and sells high quality body art products, including performance makeup, airbrush stencils, and airbrush equipment to fit the demands of both the novice and professional makeup artists alike.
European Body Art™ (EBA) is a rapidly growing company dedicated to innovation and pushing the boundaries of the professional makeup industry. The essence of the brand can be seen through thousands of individuals working with European Body Art products and exploring the world of endless expression. Building on its legacy of innovation and style, EBA has become the mark of excellence and quality to professional makeup artists globally. For questions or to place orders for performance makeup, contact European Body Art headquarters at (800) 991-4322 or email at support (at) europeanbodyart (dot) com.