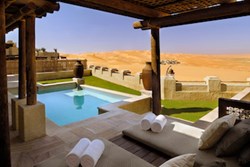 We're delighted with our first-ever list of World's Best Hotels. This collection is one-of-a-kind and carefully curated by the most well-traveled people on earth.
Oakland, CA (PRWEB) February 18, 2014
Lonely Planet has announced its picks for the World's Best Hotels for 2014. Unlike other lists, Lonely Planet's World's Best Hotels aren't necessarily the most popular hotels with travelers. Instead, it's a carefully curated list of 30 extraordinary and unique places to stay around the globe, some of which may be well-known, while others are delightfully under-the-radar.
To create World's Best Hotels, the beloved travel media company called upon its network of expert travel writers to submit their choices for the best-of-the-best in three categories: "Most Extraordinary Places to Stay", "Best-Value Accommodations" and "Top Eco Retreats". From there, an in-house panel selected the top 10 for each.
Extraordinary: Lonely Planet's authors are always on the lookout for experiences which will create exceptional memories for travelers, and accommodation is no exception. Included in the cut of the 10 most extraordinary places to stay are Saugerties Lighthouse in New York State and the Gibbon Experience Treehouse in Laos.
Best-Value: Having visited thousands of hotels and guesthouses, Lonely Planet's authors know good value and understand how important it is for travelers to stretch their dollar throughout their trip. Old Plovdiv Guesthouse in Bulgaria and Oztel in Rio de Janeiro are just two places that offer the most bang for the buck.
**Lonely Planet will also host a Twitter chat featuring budget travel expert and blogger Kash, from Budgettraveller.org. The chat will discuss money-saving travel tips, exceptional value accommodation and favorite budget destinations. Follow the hastag #LPchat on Thursday, February 27th at 12-1 p.m. EST/9-10 a.m. PST to participate**
Eco: Traveling responsibly has always been at the core of Lonely Planet's values and mission. With this in mind, our authors strive to find places that are committed sustainable practices. Our picks for eco stays have made impressive strides to minimize their environmental impact and contribute to local communities, like Chole Mjini in Tanzania and Machu Picchu Pueblo Hotel in Peru.
LonelyPlanet.com Editorial Director and World's Best Hotels panelist Tom Hall says, "We're delighted with our first-ever list of World's Best Hotels. This collection is one-of-a-kind, carefully curated by the most well- traveled people on earth. We've been giving trusted recommendations to travelers for over 40 years at Lonely Planet. Our authors provide their honest opinion and never take freebies in exchange for positive coverage so you can trust our reviews."
Lonely Planet's website has over 80,000 author reviewed hotels, as well as curated lists of the best places to stay in more than 650 destinations.
To find out the winners, including author commentary as to why they were chosen, please visit:
Most Extraordinary Hotels
Best Value Hotels
Best Eco Hotels