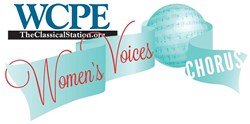 The WCPE Education Fund has provided music lessons, summer camps, concert tickets and funding for small local ensembles of all ages.
Wake Forest, N.C. (PRWEB) February 17, 2014
WCPE Community and Arts Liaison Tara Lynn announces that the WCPE Education Fund recently helped Women's Voices Chorus produce a short educational documentary about a very special performance of Vivaldi's Gloria, which is available for viewing at no cost online, along with the full concert.
"Nearly four years ago, WCPE began to offer contributors the opportunity to donate ten percent of their donation to a special fund," offers Lynn, who is also host of As You Like It. "The WCPE Education Fund has provided music lessons, summer camps, concert tickets and funding for small local ensembles of all ages."
The documentary and a full video recording of Women's Voices Chorus' Gloria performance are freely available online to audiences worldwide at http://womensvoiceschorus.org/media/.
"The WCPE grant helped us produce a documentary about this performance," states Allan Friedman, D.M.A., Artistic Director of WVC. "We included footage from our rehearsals and concerts as well as interviews with our artistic director and chorus members."
Today it's rare to hear an all-female performance of the Gloria, since not all women's groups can provide the wide vocal range of the original Ospedale choir's female tenors and basses. In the "Gloria et Pax" concert, accompanied by a baroque orchestra, the ensemble gave an authentic performance similar to what might have been heard in Venice 300 years ago.
The documentary and concert are also are available on DVD for a small fee at their online store. Proceeds will cover other expenses incurred in the making of the film.
For Immediate Release
Media Contact:
Curtis Brothers
919.556.5178
curtis(at)TheClassicalStation(dot)org
About Women's Voices Chorus:
Women's Voices Chorus is unique as the Triangle's only community-based classical chorus for sopranos and altos. We bring to life a wide range of choral music written for women. Our repertoire extends from medieval chant and Renaissance polyphony to opera choruses and contemporary compositions. We delight in unearthing forgotten gems and introducing new works by active composers, especially by women composers.
About WCPE:
With a 35 plus year history, WCPE 89.7 FM is a non-commercial, 100 percent listener-supported, independent station dedicated to excellence in Great Classical Music broadcasting. WCPE is heard worldwide on the Internet in multiple formats, including the next generation IPv6. Because WCPE receives no tax-derived support, the station conducts two on-air fundraising campaigns and two major mail-out campaigns per year to raise needed operating funds. For more information, visit http://www.TheClassicalStation.org or call 919-556-5178.
###