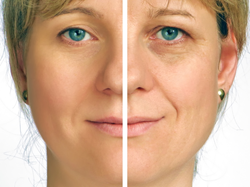 Supreme Skin spokesperson says, "when we see people for the first time they are mostly unaware of what microcurrent can do for their skin. It truly gets anti-aging results with no risk or downtime".
Asheville, NC (PRWEB) February 24, 2014
The Asheville skin care company Supreme Skin (YourSupremeSkin.com) uses microcurrent technology and takes a natural, results-oriented approach to generating younger skin without any unwanted discomfort or risky procedures. They have been introducing their "Lunchtime Lift" to Western North Carolina by showing people results. They are making it possible for more people to have noticeably younger looking skin. Supreme Skin uses microcurrent technology administered by highly skilled and licensed estheticians. It's a noninvasive skin care treatment that is becoming more and more popular, as people learn of it.
Microcurrent skin treatment is a gentle method of treating both the face and the body for lifting and toning the skin while also diminishing unsightly wrinkles. The treatment is the only one available at this time that uses gentle impulses that work at the cellular level to reeducate and restore the skin. Once the muscular structure is revitalized it will naturally support the visible outer surface of the skin and give it that instantly recognizable youthful, healthy appearance. This is appealing to many who don't want to go under the knife, get risky injections or pay high prices.
Many people are newly hearing about this kind of treatment. Described by Supreme Skin's spokesperson Carole Gardner, "When we see people for the first time, they are mostly unaware of what microcurrent can do for their skin." Their licensed estheticians use conductive wands that gently deliver a low level of microcurrent deep into the skin, where the stimulation activates muscle tissues. The treatment increases healthy blood flow, detoxifies the skin, and encourages new collagen and elastin growth. All of this happens at the cellular level to create more visibly youthful skin. "Most people have never heard of microcurrent" she expands, it's the norm for potential clients to call with questions."
Most people who experience the affordable and convenient Asheville microcurrent therapy see great results even at the first session. There is absolutely no need for a recovery. The improvements are also sustainable, with minimal maintenance. The claims are proving true that Supreme Skin delivers on it's promise for more attractive skin with a youthful and radiant glow. The estheticians are happy to explain the procedure and benefits to their growing number of new clients.
What is being used in Hollywood by more an more celebrities to stay "red carpet ready" is now also being used more for the average person because it is not only effective, but affordable. It's fast becoming very popular as an alternative to riskier and more expensive procedures.
The procedure has become so popular that Supreme Skin is now doubled it's space in order to handle more people who are learning about microcurrent and what it can do for their skin.