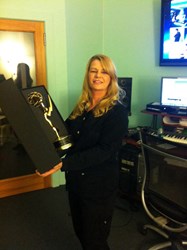 New York, NY (PRWEB) February 18, 2014
Audiobrain will provide music supervision services, music system design and management to NBC Olympics, a division of the NBC Sports Group, during its coverage of the Sochi 2014 Olympic Winter Games, February 6-23, 2104. The announcement was made by Mark Levy, Senior Vice President, NBC Olympics, and Audrey Arbeeny, Founder and Executive Producer, Audiobrain. This will be the seventh Olympics collaboration with NBC Olympics for Audiobrain.
In addition to consulting on the music system and design and information organization, Audiobrain's role includes musical content procurement and quality review, editing, original composition, and creative and technical support to NBC Olympics' producers before, during, and after the Games.
"We use a multitude of music during the Games for our feature production, and we are always looking for variety of well composed pieces," said Levy. "Audiobrain's expertise in this area allows us to provide our producers with the quantity and quality of musical choices that will allow us to deliver on all our initiatives during this intense production time frame."
Ms. Arbeeny said: "Since we have been heavily involved in NBC Olympics' music supervision for many years, we have been able to evolve the music and systems over time, as new media becomes increasingly more significant. All of their new platforms have enabled us to develop and evolve to a sophisticated music platform, and to understand the producers and their needs very well. Since we specialize in sonic branding, we recognize the importance of ensuring that every sound enriches NBC's Olympic coverage and audience experience. We will have over one million music tracks from every genre, mood and culture. Events and stories will unfold quickly and in real time, and it is our job to be as prepared and responsive as possible for all of them."
About NBC Olympics:
A division of the NBC Sports Group, NBC Olympics is responsible for producing, programming and promoting NBCUniversal's Olympic coverage. It is renowned for its unsurpassed Olympic heritage, award-winning production, and ability to aggregate the largest audiences in U.S. television history.
About Audiobrain:
Emmy™ award winning New York-based Audiobrain is recognized throughout the world as a leader in sonic branding and interactive audio. With expertise in original musical composition, technical consulting, interactive design, system development, branding, audio strategy, licensing and music supervision, Audiobrain specializes in multi-dimensional audio initiatives.