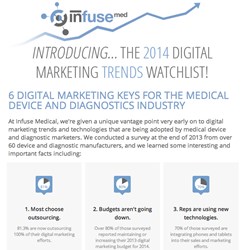 In 2013, we saw many medical device and diagnostics sales teams moving in the direction of using mobile technology during pitch meetings and other sales engagements.
Lehi, Utah (PRWEB) February 16, 2014
Infuse Medical, a Utah based and award-winning digital agency (working exclusively with biotech, pharma and medical device companies) has released their "2014 Digital Marketing Trends Watchlist" for medical device manufacturers. Intending to draw attention to the marketing practices and technologies that have gained widespread popularity over the past year, as well as those expected to experience such a gain in 2014, the list is designed for marketing and sales managers to utilize in planning their current and potential digital capabilities in the coming year as well as providing a birds-eye-view of technologies to watch for.
The list released by Infuse is a compilation of both survey results and accrued industry knowledge gained by providing industry focused digital sales and marketing technologies and mobile applications to 100% of Fortune 500 and 75% of Fortune 1000 medical device companies. As such, Infuse is given a unique vantage point very early on to digital marketing trends and technologies that are quickly being adopted by medical device and diagnostic sales and marketing managers. Additional points in the list are a direct result of a survey Infuse conducted at the end of 2013 with over 60 device and diagnostic manufacturers of all sizes and specialties. By strategically combining points from their survey findings with their in-depth industry knowledge, Infuse was able to identify six key trends, designed to address a wide array of marketing practices and goals.
On the 2014 list, the number one key digital marketing trend identified by Infuse is: "Using mobile application to mirror the sales engagement."
"In 2013, we saw many medical device and diagnostics sales teams moving in the direction of using mobile technology during pitch meetings and other sales engagements," said Infuse President Jordan Erickson. "As mobile apps have become easier to build with high production value, it just makes sense to create mobile sales tools that explain and demonstrate the utility and value of medical devices to leverage in sales scenarios. That's easily the biggest trend we saw in 2013, with 70% of respondents using mobile sales tools, and we expect it to become even more commonplace in 2014."
Other trends on the list address responsive website design, API integration, interactive marketing, and other areas of popular emphasis. Results from Infuse's survey also revealed interesting information about the general direction of the medical device and diagnostics marketing industry.
"We found that four out of five device and diagnostics companies are fully outsourcing their digital development efforts," Erickson added. "Hiring talented developers can be cost-prohibitive, and developing digital tools that integrate into 3rd party platforms can be quite complicated. We also found that digital marketing budgets are increasing almost across the board. Only about 12% of those surveyed reported that they plan to decrease their budgets for 2014. Almost three times as many respondents plan to increase their digital solutions budgets."
This is the first year that Infuse has published results from their industry survey and digital trends watchlist, but say they plan to make it an annual tradition. To view the full "2014 Digital Marketing Trends Watchlist", visit http://www.infusemed.com/2014-digital-marketing-trends-watchlist.
About Infuse Medical
Infuse Medical is a full-service, award winning digital agency located in Lehi, Utah. Infuse provides creative, technical, and mobile solutions for biotech, pharma and medical device companies with a special focus in medical device and diagnostics sales solutions. Infuse is listed by MM&M as a top 100 agency, and have won multiple awards for their mobile applications and other digital media products. Infuse Medical's clients come in all shapes and sizes, but they include 100% of the fortune 500 and just over 75% of the Fortune 1000 medical device and diagnostic manufacturers. For more information, visit infusemed.com or email Infuse at info(at)infusemed(dot)com.