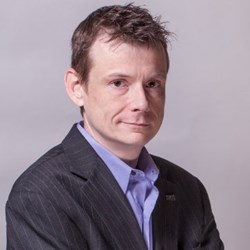 "Mike brings a wealth of knowledge, passion and dare we say, Hamptonality, to the team and we couldn't be happier to have him join the Foundations family." Kevin Boudreaux, CEO
Orlando, Florida (PRWEB) February 16, 2014
Foundations Hospitality announced today that they have selected Mike Adkins, a former member of the Hampton Hotels Brand Performance Support team, to be their first Chief Operating Officer. For the past six years, Mike has held various positions within the Hampton brand team from supporting over 125-hotels in the Mid-Atlantic region to being part of the centralized BPS team that supported all 1,900-Hampton Hotels around the world in the areas of product and service. During his tenure with Hilton Worldwide, Mike won the prestigious "Spirit of Hampton" award, the 2nd highest honor a team member can receive, after being nominated by one of his General Managers. Mike has also served as the primary facilitator of the Guest Loyalty segment in Hampton GM Leader program for the past 4 years. It was during this time that Mike won "Phil's Award" from Phil Cordell, Global Head of Focused Service Hotels, for his work in delivering Hampton GM Leader to general managers at their host hotel during a massive ice storm.
Prior to joining the Hilton Worldwide team, Mike worked with multiple brands including Courtyard by Marriott, Fairfield Inn by Marriott and Best Western. Whether serving as a hotel General Manager, task force leader, or management company internal auditor, Mike was always counted on by senior leadership and team members alike as the go-to person to help fix any problem a hotel faced.
"Mike brings a wealth of knowledge, passion and dare we say, Hamptonality, to the team and we couldn't be happier to have him join the Foundations family," said co-Founder and CEO Kevin Boudreaux. Boudreaux went on to say, "I first met Mike when I was a GM of a Hampton Inn & Suites and then later had the honor of working with him when I led the Hampton GM Leader program for Hilton Worldwide University. Mike continually impressed me with his commitment to the hotels, the guest experience, and Hilton Worldwide as a whole. Each and every day he lived the HILTON values and when he decided to leave Hilton, I quickly made him an offer."
In his role as Chief Operating Officer, Mike will work closely with Kevin to develop our portfolio of managed hotels and ensure that all processes and procedures are delivering the results our owners expect. In addition, Mike will expand our current consulting client portfolio. You can welcome Mike to the team via email at mike.adkins@foundationshospitality.com or by sending him a welcome message from our website, http://www.FoundationsHospitality.com