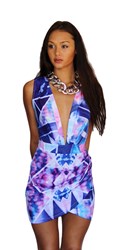 Sobi "latest fashion, best styles, cheapest prices"
Surfers Paradise, Queensland, Australia (PRWEB) February 18, 2014
"Sexy, bright and tight." Is this how we should appropriately describe the women's fashion on the Gold Coast?
Many might disagree.
But in a city with the buzz and excitement, turning your head on the fashion display in and around Surfers Paradise is very common.
The Gold Coast is blessed with 57 kilometers of stunning coastline, beautiful warm sunny weather, great surf beaches and a lush adventurous hinterland.
The Gold Coast remains a prominent tourism destination, attracting 12 million visitors each year from around the world and within Australia, and is on the cusp of a transformational change thanks to the 2018 Commonwealth Games.
The property market is slowly recovering from a period of idleness and the retail sector is hanging on to the promises of the future.
There are beachfront esplanades, shopping precincts, exhilarating theme parks and quality restaurants. The increasing population represents as friendly, loving, colorful and fun loving and the fashions seem to be closely attuned to exactly that.
After reviewing some local fashion stores online, only one clearly represented itself as being local from the Gold Coast. The display of dresses, skirts and shorts were impressive, with a definite overriding theme of fashion which might be commonly found in younger women of the Gold Coast.
Is this a sexy, exciting style? Sure is!
This website http://www.sobifashions.com.au is gaining quick popularity overseas for it's fashion representation, and it's not hard to see why.
Great styles, great cheaper prices and nice picture and video displays.
So if you're a young woman looking for that x factor in women's fashion, that "sexy, bright and tight" look, then this is the site for you. Better still, follow at instagram and get all the latest releases and promotions.