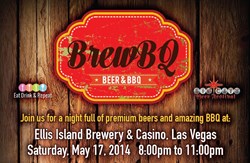 Full pints — the way a real beer festival is done!
Las Vegas, Nevada (PRWEB) February 19, 2014
Sin City Beer Festival has announced that its upcoming beer tasting event will be hosted at the beautiful Ellis Island Casino Las Vegas. Joe Pickett, local celebrity and Executive Director of Brewery Operations at Ellis Island, will be on hand to serve as the festival's official brew master. A wide array of participating breweries will also contribute to the line-up of full-pint brews that patrons will have the pleasure of sampling. Participants include iconic brands such as Stella Artois, Beverly Hills Gold, and Eurobrew, as well as local boutique labels and flavorful imports. Brew & BBQ's "BrewBQ" aim is to give guests a chance to enjoy a wide range of delicious artisan crafted bocks, great food and wholesome fun while supporting a great cause.
BrewBQ Festival proceeds will be donated to support local food banks, enabling them to continue providing food assistance to many of Las Vega's neediest residents. Our aim is to feed 10,000 people with this festival by donating the proceeds to food pantries, soup kitchens, shelters, after-school programs, senior citizens and more. BrewBQ gives patrons a unique chance to spend a day savoring the most flavorful brews and BBQ ribs that Las Vegas has to offer, all while making a difference in the lives of our community's most vulnerable members.