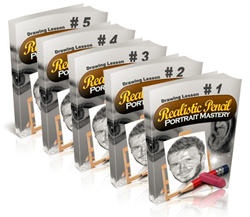 "Thanks to Realistic Pencil Portrait Mastery, users can become professional portraitists."
(PRWEB) February 18, 2014
Realistic Pencil Portrait Mastery by Christopher Sia is a new drawing course that teaches users to create beautiful pencil portraits. This course consists of clear instructions and illustrations that guide users to become professional portraitists step by step. Being confident with the effectiveness of the course, Sia offers a 100% risk-free unconditional money-back guarantee. If this course fails to help improve pencil portrait drawing skills, users have the right to claim all of their money back. The site abb2u.com has presented a review to show whether Realistic Pencil Portrait Master is worth buying.
The review on the site abb2u.com emphasizes that Realistic Pencil Portrait Mastery is a comprehensive and effective pencil portrait drawing course. This course reveals the secrets of realistic pencil portrait drawing. In other words, it teaches users how to create realistic pencil portraits easily. This course covers 5 lessons on how to draw eyes, noses, mouths, teeth, ears and hair. Users will learn how to draw realistic facial features. Thanks to Realistic Pencil Portrait Mastery and its 3 bonuses (5 Lesson Process Maps, 100 High Resolution Reference Pictures, and 12-Week Pencil Portrait Mastery Exercises), users can become highly adept in drawing realistic pencil portraits.
Users only need to pay $47 to attain the mastery of portrait drawing quickly. Upon completion of this course, users will not need to attend expensive art courses or workshops. Moreover, they will receive free updates of the Realistic Pencil Portrait Mastery e-book.
Please read the full review of Realistic Pencil Portrait Mastery here.
They can visit the official website to view full details of Realistic Pencil Portrait Mastery.
About the website: Since 2013, the website abb2u.com provides users with product reviews regarding self-help, entertainment, health and fitness. As its founder, Dung Vu will gladly reply to customers' feedback via email.