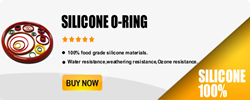 (PRWEB) February 16, 2014
TOGOHK.com has become a leader in the industry of silicone O-rings, and its innovative designs can better reflect the business focus. Recently, the company has announced custom designs are available for its clients worldwide.
TOGOHK.com is a well-known silicone product company which is based in Shenzhen China. Besides silicone O-rings, the business offers silicone chocolate candy molds, Viton O-rings and more. TOGOHK.com has made a commitment to provide premium and dedicated service to its clients throughout the world.
The CEO of the company says, "We are happy to offer custom designs to our customers. Anyone who has special requirements can contact with us by email, and we will give a fast quotation based on the quantity and requirements. Everything is simple and amazing here, including the price and delivery. We will provide a win-win solution for every customer in trying to do the right thing for his company."
Made with all natural materials, the silicone O-rings from TOGOHK.com make the people feel connected to the modern life. TOGOHK.com has mastered its ability to provide high quality silicone O-rings made with premium quality materials and innovative designs at competitive prices.
According to a sales manager of the company, they are offering big discounts on any order of silicone O-rings. The special offer will last until Mar. 10, 2014.
About TOGOHK.com
Founded in 2003, TOGOHK remains committed to delivering the highest quality mold products to its clients and consistently improve upon products so that customers are provided the most effective silicone molds available. Its professionals stay current with industry developments, trends and regulations.
For more information about the business, please visit: http://www.togohk.com/?gallery=silicone-o-ring