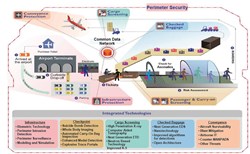 Big Data based analysis to become key component of Airport Security systems
Washington D.C. (PRWEB) February 18, 2014
According to the Global Homeland Security & Public Safety Market – 2014-2022 research report, nearly 25% of current airport operating costs are related to the costs of purchasing and running security technologies (compared with only 8% pre-9/11). Despite these costly expenditures, the performance of these systems leaves much to be desired. Unacceptably high false alarm rates, overlooked threats, poor passenger experience, as well as the high cost of personnel will continue to drive the market for high-end technological solutions.
There is no "silver bullet" security protocol or technology that can keep up with the increasing sophistication of the 21st century terrorists. Thus, HSRC forecasts that in the future, multi-threat, interconnected detection modalities that are fused with security and other databases will dominate the market
Click here for full size diagram of fused multi-modal airport security system.
Some of the detection signatures include:
1. Passenger background info. (e.g., security and other databases, driver license database, IRS)
2. X-ray systems
3. Explosives trace detectors
4. Checked luggage EDS
5. Metal detection portals
6. AIT
7. Airport perimeter security fences
8. Airport worker/visitor biometric ID
9. Smart video surveillance
10. Cell phone airport surveillance
11. Black lists
12. Face recognition standoff biometrics, and more
Read more about this research at: http://www.homelandsecurityresearch.com/2013/11/global-homeland-security-public-safety-market-2014-2022/, details below:
12 years have passed since 9/11 and the global Homeland Security (HLS) & Public Safety markets are going through major shifts. Markets once dominated by the U.S. and EU are now moving east. New and maturing sensor and ICT technologies create new market niches and fresh business opportunities. These shifts lead a $305 billion 2011 market to a $546 billion by 2022.
With more than 1500 pages and 1100 tables & figures, the new "Global Homeland Security & Public Safety Market – 2014-2022″ is the largest research project ever conducted in our company's history. This unique report offers for each of its 200+ sub-markets 2011-2013 market data and analyses, as well as 2014-2022 forecasts and analyses. This three volume report is the most comprehensive review of the Global Homeland Security & Public Safety market available today.
Report Findings Include:
Aviation Security: This market which was dominated by the U.S. and the EU during 2002-1012, will be overtaken by China and the Gulf states during the 2014-2022 period. These regions will combine to a market share of more than 60% of the global sales of the new aviation security systems and devices.
Big Data: The HLS & Public Safety related Big Data technology market is forecasted to grow at a 2014-2022 CAGR of 37%, the fastest growing HLS & Public Safety technology sector. The U.S. market share is 51% while the EU market share is forecasted to take more than 21% of the market.
Cross-border illegal immigration, organized crime, smuggling of goods & narcotics, and terror are the main drivers of the land border and maritime security markets growth.
Safe Cities: As you read this preview, over 2300 municipalities around the globe are executing or planning their Safe City projects to enhance civilian security, safety, local economy and quality of life. A Safe City price tag ranges from $billions (e.g. Dubai $2.3 billion, Guangdong Province "Safe City Corridor" $6 billion) down to a few $millions for a community "Safe City" project.
According to recent reports (e.g., the UN) climate related natural disasters grew during the recent decade by more than 13%. The Natural Disasters Preparation & Response equipment cumulative 2014-2022 market is forecasted to surpass the $150 billion level.
Cyber Security: Driven by Cyber-Terror and Cyber-Crime, the Cyber Security 2014-2022 market is forecasted to be the largest HLS & Public Safety technology sector, with cumulative sales of more than $700 Billion.
Explore more Homeland Security and Public Safety Reports at http://www.homelandsecurityresearch.com.
About Homeland Security Research Corp.(HSRC)
HSRC is a Washington, D.C. based international market research and strategic consulting firm serving the Homeland Security and Public Safety communities. HSRC provides premium market, present & emerging technologies and industry expertise, enabling our global clients to gain critical insight into the business opportunities that exist within the Homeland Security & Public Safety markets. Government clients include the U.S Congress, DHS, U.S Army, U.S Navy, NATO, U.K, Japan, Korea, Taiwan, Israel, Canada, Germany, Australia, Sweden, Finland, and Singapore; DOD, DOT, GAO, and the EU are among others. HSRC serves over 650 private sector clients, including all major defense and security contractors and many Fortune 500 companies. 70% of our reports are acquired by repeat customers.