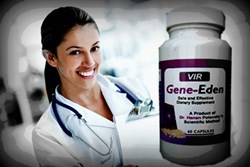 "When a person tests positive for herpes, we recommend speaking to the doctor about Gene-Eden-VIR." – Mike Evans, polyDNA
Rochester, NY (PRWEB) February 20, 2014
Many people wonder if they have genital herpes (HSV-2) if they don't have symptoms, such as visible sores. In its January 2014 survey, polyDNA learned that up to 78% of respondents didn't know that the herpes virus infects individuals for life, and that the virus is present even when there are no symptoms. "Most people with genital herpes are not aware they are infected. But, if symptoms do occur with the first outbreak, they can be severe." (See Womenshealth.gov, from July 16, 2012) (1). polyDNA therefore suggests that individuals talk to their doctors about Gene-Eden-VIR, which helps the immune system target the latent herpes (HSV). This natural antiviral was proven to reduce Herpes symptoms in a post-marketing clinical study that followed FDA guidelines.
WebMD says that, "Genital herpes can be a confusing disease. Symptoms can look like other conditions, or there may be no symptoms at all." (See WebMD's site on genital herpes, last reviewed on August 6, 2012) (2). Many people then wonder how they can tell if they are infected. "Often it's hard to tell by looking. The textbook symptom of genital herpes is a cluster of small fluid-filled blisters that break, forming painful sores that crust and heal during several days. Affected areas include the penis, scrotum, vagina, vulva, urethra, anus, thighs, and buttocks. But many people don't get these sores. Some people have no symptoms at all, while others get symptoms that can be easily mistaken for razor burn, pimples, bug bites, jock itch, hemorrhoids, an ingrown hair, or a vaginal yeast infection (2)."
polyDNA points out that the best way to determine if an individual is infected with HSV is to get tested. "A doctor can take a sample from what appears to be a herpes sore and send it to a lab to be examined. You can also have a blood test. The blood test looks for antibodies to the virus that your immune system would have made when you were infected. HSV-2 almost always infects the genitals, so if antibodies to HSV-2 are detected in the blood, you probably have genital herpes (2)."
A person tested positive for herpes is usually prescribed acyclovir to target the active herpes virus. However, while effective, Acyclovir is considered expensive, and has a number of side effects, including "abdominal or stomach pain, decreased frequency of urination or amount of urine, increased thirst, loss of appetite, nausea or vomiting (and) unusual tiredness or weakness." (See Drugs.com's page on acyclovir side effects, last updated December 30, 2013) (3).
In light of this information, polyDNA recommends Gene-Eden-VIR. This affordable natural antiviral product was clinically proven to safely reduce symptoms of a genital herpes infection in a study that followed FDA guidelines.
After hearing some of these facts, survey respondent Jayne K. said, "I had one herpes breakout but I thought it was just this little painful rash. It actually wasn't even that painful. I never even considered that it might be herpes!"
"When a person tests positive for herpes, we recommend speaking to the doctor about Gene-Eden-VIR." – Mike Evans, polyDNA
In a post marketing clinical study published on August 12, 2013 in the medical journal Pharmacology & Pharmacy in a special edition on Advances in Antiviral Drugs, researchers showed that Gene-Eden-VIR is safe and effective (4). Additionally, up to 70% of those studied reported a decrease in viral symptoms, and users experienced an increase in overall health (4).
Each ingredient of Gene-Eden-VIR was chosen through a scientific approach. Scientists scanned thousands of scientific and medical papers published in various medical and scientific journals around the world to identify the safest, most effective natural ingredients that target the latent HSV-2. (4)
To learn more about Gene-Eden-VIR and herpes, visit: http://gene-eden-kill-virus.com/Herpes-Remedy.php. All orders of Gene-Eden-VIR are completely confidential, and no information is shared or sold to any third party. Privacy is assured.
Reference:
(1) Womenshealth.gov - Genital Herpes Fact Sheet. Last reviewed on July 16, 2012.
http://www.womenshealth.gov/publications/our-publications/fact-sheet/genital-herpes.html#d
(2) CDC - Frequently Asked Questions About Genital Herpes. Last reviewed on August 6, 2012.
http://www.webmd.com/genital-herpes/genital-herpes-faq?page=2
(3) Drugs.com - Acyclovir - Side Effects. Last Updated December 30, 2013.
http://www.drugs.com/sfx/acyclovir-side-effects.html
(4) Gene-Eden-VIR Is Antiviral: Results of a Post Marketing Clinical Study. Published on August 12, 2013.
http://gene-eden-kill-virus.com/PP_Gene-Eden-VIR-is-Antiviral.pdf
polyDNA is a biotechnology company that develops dietary supplements using the unique scientific method developed by Dr. Hanan Polansky, which is based on Computer Intuition.
In addition to his unique scientific method, Dr. Polansky published the highly acclaimed scientific discovery, called Microcompetition with Foreign DNA. The discovery explains how foreign DNA fragments, and specifically, DNA of latent viruses, cause most major diseases.
polyDNA developed Gene-Eden-VIR , an antiviral natural remedy that helps the immune system kill latent viruses.