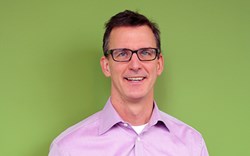 With consumers now embracing smart home solutions, we are on our way to understanding how the connected home will impact energy savings.
TORONTO, Ontario and DALLAS, Texas (PRWEB) February 17, 2014
Stuart Lombard, CEO of ecobee, makers of the world's first smart thermostat, will be a keynote speaker during the upcoming 2014 Smart Energy Summit: Engaging the Consumer, held February 17-19 in Austin, Texas. He will present the opening keynote "API Economy: The Impact to Consumers and Energy Management" on Wednesday, February 19 at 9:45 a.m.
During the keynote, Stuart Lombard will address how the open API model will eliminate obstacles and reduce friction for advanced energy management models. He'll discuss how his own company integrates with energy companies and smart home solutions, such as AutoGrid, Earth Networks and SmartThings, to accelerate the Internet of Things and enhance consumer engagement.
"With consumers now embracing smart home solutions, we are on our way to understanding how the connected home will impact energy savings," said Stuart Lombard, CEO, ecobee. "At ecobee, we're working with many partners in a range of industries to realize the future of energy management."
The Wi-Fi enabled thermostat industry is growing at a rapid pace. Parks Associates research shows roughly 50 percent of U.S. broadband households own a programmable thermostat with 11 percent owning a thermostat that connects to the Internet. The market for programmable communicating thermostats is experiencing dramatic growth and expected to grow by more than 20 percent per year through 2017.
"Convergence in the connected home creates new opportunities for energy management partnerships, especially with open API models," said Tom Kerber, Director of Research on Home Controls and Energy at Parks Associates. "Technology trends within the connected home must be considered when developing and revising the utility home area network roadmap. Stuart's keynote will give us a glimpse into the future about how utility, thermostat and other energy management companies will work together."
The fifth-annual Smart Energy Summit will be held at the Four Seasons Hotel. Information about Smart Energy Summit is available at http://www.ses2014.com. Press passes for the event are available at http://www.parksassociates.com/ses-presspass.
About ecobee
ecobee Inc, based in Toronto, Canada, introduced the world's first Wi-Fi enabled smart thermostat to homeowners across North America in 2007. The company's award-winning thermostats have enabled hundreds of thousands of consumers to control their home comfort anytime, anywhere using their smartphone, tablet or computer. ecobee services homeowners, businesses, HVAC and utilities. http://www.ecobee.com
About Smart Energy Summit
Smart Energy Summit: Engaging the Consumer examines the expanding market for energy solutions and home controls and its impact on utilities, service providers, retailers, manufacturers, and consumers. At this annual conference, industry leaders, media, and Parks Associates analysts evaluate partnership opportunities, technological and interoperability challenges, strategies for consumer engagement, and deployment plans for energy and management solutions in the connected home.
The summit agenda features executives representing utilities, telecom and security companies, retailers, and OEMs presenting on the state of the market and the emerging consumer and business opportunities.
The fifth-annual Smart Energy Summit will take place February 17-19, 2014, at the Four Seasons in Austin, Texas. http://www.ses2014.com, http://www.smartenergysummit2014.com