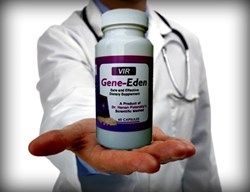 Individuals with oral HPV warts should realize that most of the treatment options available are localized. In other words, the treatments target the symptoms of the HPV infection but don't target the HPV virus. – Mike Evans, polyDNA
Rochester, NY (PRWEB) February 21, 2014
polyDNA's January survey showed that people are unaware of the connection between the Human Papillomavirus (HPV) and warts on the lips, tongue, and in the throat. However research shows that "…genital warts … can develop in your mouth or throat if you have oral sex with an infected person." (See the University of North Carolina's Student Health Services website) (1). These warts are "characterized by little pinkish or whitish nodules, which proliferate over tongue, lips, palate and floor of mouth which can be sessile (fixed in one place) or pedunculated (connected to the underlying tissue buy a small stalk). The surface contour is usually cauliflower like." (See the Indian Journal of Sexually Transmitted Diseases, from July 2013) (2). polyDNA recommends that HPV infected individuals talk to their doctors about Gene-Eden-VIR, which helps the immune system target the latent HPV. This natural antiviral was proven to reduce HPV symptoms in a post-marketing clinical study that followed FDA guidelines.
Most oral HPV infections are acquired through oral sex. "HPV infection of oral and oropharyngeal mucosa (part of the throat) are associated with oro-genital sex and high risk sexual behavior of cohabiting numerous partners, particularly when initiated at an early age (2)." Additionally, "Oral and oropharyngeal HPV infections are primarily acquired through sexual activities, mouth to mouth contact (kissing) between partners or family members, autoinoculation and vertical transmission during birth are also some of the known routes which can establish HPV infection (2)."
Research shows that people who have oral sex have a 50% chance to acquire the oral infection. Incubation period ranges from 2 to 8 weeks. Oral warts resemble genital warts and are soft, moist, or flesh colored. The warts appear in the oral area within weeks or months after infection. They sometimes appear in clusters that resemble cauliflower-like bumps, and are raised or flat, small or large.
Treatment options are limited. Oral warts are "mainly related to HPV 6 and 11. Surgical removal is the first choice of treatment, but electrocauterization, cryosurgery and interferon injections are also used (2)."
"Individuals with oral HPV warts should realize that most of the treatment options available are localized. In other words, the treatments target the symptoms of the HPV infection but don't target the HPV virus." – Mike Evans, polyDNA
polyDNA recommends asking the doctor about Gene-Eden-VIR. A recent post marketing clinical study published in the peer reviewed, medical journal Pharmacology & Pharmacy, in a special edition on Advances in Antiviral Drugs on August 12, 2013 showed that Gene-Eden-VIR is safe and effective (3). Additionally, up to 70% of those studied reported a decrease in HPV symptoms (3).
Each ingredient of Gene-Eden-VIR was chosen through a scientific approach. Scientists scanned thousands of scientific and medical papers published in various medical and scientific journals around the world to identify the safest, most effective natural ingredients that target the latent form of HPV. (3)
To learn more about Gene-Eden-VIR and HPV, visit http://gene-eden-kill-virus.com/HPV-Remedy.php. All orders of Gene-Eden-VIR are completely confidential, and no information is shared or sold to any third party. Privacy is assured.
Reference:
(1) The University of North Carolina - Greensboro - Student Health Services. HPV and Genital Warts.
http://shs.uncg.edu/wellness/resources/std/hpv
(2) An update on oral human papillomavirus infection. Published in July 2012.
http://www.ncbi.nlm.nih.gov/pubmed/24339456
(3) Gene-Eden-VIR Is Antiviral: Results of a Post Marketing Clinical Study. Published on August 12, 2013.
http://www.scirp.org/journal/PaperInformation.aspx?PaperID=36101
polyDNA is a biotechnology company that develops dietary supplements using the unique scientific method developed by Dr. Hanan Polansky, which is based on Computer Intuition.
In addition to his unique scientific method, Dr. Polansky published the highly acclaimed scientific discovery, called Microcompetition with Foreign DNA. The discovery explains how foreign DNA fragments, and specifically, DNA of latent viruses, cause most major diseases.
polyDNA developed Gene-Eden-VIR , an antiviral natural remedy that helps the immune system kill latent viruses.