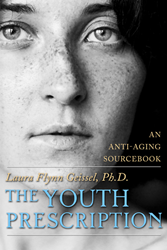 Currently, our worldwide health care system is in crisis. In today's world, you have to become your own health advocate if you want to maintain your vitality. I'm here to teach you how.
Washington, DC (PRWEB) February 25, 2014
In a provocative and informative new work of non-fiction, "The Youth Prescription: An Anti-aging Sourcebook" provides a thorough investigation of holistic health therapies and supplements. The book is a must read for anyone seeking improved wellness through natural approaches based in alternative medicine.
Drawing on the latest research from around the world, Dr. Geissel guides the reader through a series of anti-aging strategies and cutting edge therapies for turning back the clock. Inspired by her own fight for wellness against the ravages of Lyme disease, the author approaches anti-aging using alternative therapies backed by hard science.
Using a conversational and comedic style, Dr. Geissel explains complex ideas including the free radical theory of aging, sources of inflammation, hidden effects of heavy metal accumulation, leaky gut syndrome, health risks of high-dose antioxidants, and the best anti-aging breakthroughs from the last decade. Dr. Geissel brings comedy to her topic with a series of cartoons inspired by the humor she has personally found in traditional and alternative approaches to health.
This book cuts through the hype of the supplement industry, telling you which supplements have withstood the tests of time and science. The Youth Prescription reveals the master anti-aging supplement, a naturally occurring superfood that contains the power to revitalize your health, boost your wellnesss, and transform how you look, think, and feel. The book charts how science opened its arms to this supplement, how to add it to your health regimen, and new research on how it helps with chronic, treatment-resistant conditions.
Laura Flynn Geissel, Ph.D. is a Washington, DC-based author who holds a doctorate in Educational Psychology. Geissel spent her career in education, publishing papers in the area of behavioral health while teaching at universities across the nation. She has now turned her expertise in education to writing books on anti-aging and alternative health. Geissel integrates a solid background in research with her interest in alternative health to produce educational works on the forefront of health science.
For more information, please visit the author's website at http://www.laurageisselreads.com.
Follow on Facebook at http://www.facebook.com/laurageisselreads
Available at http://www.amazon.com
Print ISBN: 9780991215010 – 6x9, 236 pages, $12.00
EDITORS: For review copies or interview requests, contact:
Laura Geissel Reads
2312 40th Street, NW
Suite 4
Washington, DC 20007
Email: flynngeissel(at)yahoo(dot)com
Voice: 202.415.4682
(When requesting a review copy, please specify print or ebook. For print copies, please provide a street address in your query. For ebook, please provide the file type you prefer.)
# # #