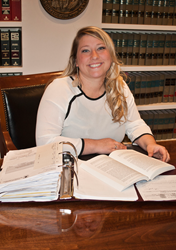 Association Management Group's 'one-on-one' personalized service really makes a difference...
Fort Mill, Rock Hill, York, Lancaster, SC (PRWEB) March 12, 2014
Association Management Group, Inc. (AMG) announced that it has named Danielle Rudisill Division Manager and Senior Community Manager. She will lead the firm's operations in Fort Mill, Rock Hill, York and Lancaster Counties. AMG is one of the Carolina's most established manager of condominiums, HOAs, homeowner and townhome associations.
Rudisill who will have senior responsibility for the firms management and operations in the region has successfully managed residential homeowner and condominium associations for the company for over 10 years. Danielle enjoys reading, travel and spending time with her family. Danielle and her husband Mike reside in Matthews with their daughter Peyton.
Rudisill is a designated Association Management Specialist (AMS) by Com munity Associations Institute (CA I). The AMS designation demonstrates a high level of commitment to the community association industry. An AMS designation is awarded based on industry experience, knowledge and expertise.
With six locations in the Carolinas, AMG features state of the art management techniques as well as "hands on" customer service that have enabled them to obtain better than 98% overall customer satisfaction. AMG's unique and proprietary management systems allow them to offer a consistently higher quality of service than their competition.
The company manages condominium, townhome, and planned unit developments from their offices in Greensboro, Winston-Salem, Research Triangle Area, Asheville and Charlotte, North Carolina, and Greenville/Spartanburg, South Carolina. AMG's philosophy is simple: "Provide superior performance at a competitive price."
To learn more about the company, visit http://www.amgworld.com or http://www.hoacarolina.com.
Click here t [o view a brief video about Association Management Group - AMG Video