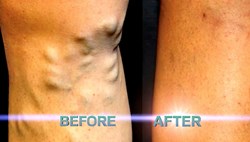 No-Knife EVLT™ is a minimally invasive technique that eliminates scarring from leg vein treatments.
New York, NY (PRWEB) February 16, 2014
"The Doctors" show is presenting an advanced treatment to eliminate varicose veins on February 18, 2014. The story will show Dr. David Greuner, the developer of No-Knife Endovenous Laser Treatment™ as he treats his patient Christine who had pronounced varicose veins on her right leg. "My varicose veins developed during my second pregnancy," says Christine. "For some reason just my right leg was affected, but the veins became worse over time and were very painful, especially when I exercised," she says. "I love to wear shorts and go to the beach, but my leg looked so bad that I didn't want anyone to see it." Christine had her varicose veins treated a week before the show taping, and she and Dr. Greuner will reveal the results of her No-Knife EVLT™ treatment on the show.
"Traditional treatments for varicose veins, including minimally invasive laser methods are performed through incisions made with a scalpel," says Dr. Greuner. "This approach can leave small scars on the legs. Women with olive and darker skin who have vein treatments are also at risk for hyperpigmentation, when the scars darken and become even more visible. No-Knife EVLT™ is a minimally invasive technique that eliminates scarring from varicose vein treatments. Women with any skin type or color can benefit," he says. 
"With conventional varicose vein treatments, a surgeon will make a small incision with a scalpel and a sheath is used to introduce a laser, radio frequency or laser catheter into the blood vessel. This method leaves a 3 to 10 mm scar at the entry point. Now we can avoid the use of a scalpel by using a very thin laser fiber and the most modern laser technology available. This laser fiber is specially engineered to be able to fit directly through a needle no larger than a needle typically used to draw blood," says Dr. Greuner. "We can treat varicose veins without any long-term evidence of the procedure being done in the great majority of cases."
For more information, visit http://www.nycsurgical.net or call 888-286-6600.
Dr. David A. Greuner is the managing director and co-founder of NYC Surgical Associates with locations in Manhattan, Brooklyn, Long Island and New Jersey. He is a double board certified surgeon with over 10 years of experience.