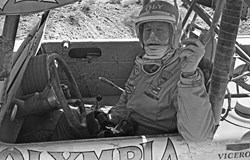 It's great to be back at The Mint 400. I have a lot of great memories of racing the Mint with Bill Stroppe. I made a lot of friends in off-road racing. It was an adventure; we really had no idea what was going to happen! - Parnelli Jones
Las Vegas, NV (PRWEB) February 17, 2014
The Martelli Brothers announced today that American Racing Legend Parnelli Jones will be the Grand Marshal of the 2014 General Tire Mint 400 presented by Polaris. Parnelli had a long and illustrious carrier in racing and is well known for pushing race vehicles to their limits and beyond. Winner of the 1963 Indy 500, he was the first driver to qualify over 150 mph. Parnelli is one of only two men to have ever won The Indy 500 and The Mint 400.
"We are honored to have Parnelli Jones as the Grand Marshal of The 2014 Mint 400. He has been a hero of ours since we were kids, and is the embodiment of what it means to be a champion. Parnelli played a critical role in the history of the Mint. He was the first nationally recognized high profile racer to come and compete at our race. It was his name that helped catapult the Mint into a national spotlight," said Matt Martelli, Mint 400 CEO.
"It's great to be back at The Mint 400. I have a lot of great memories of racing the Mint with Bill Stroppe. I made a lot of friends in off-road racing. It was an adventure; we really had no idea what was going to happen!" commented Parnelli.
The 2014 General Tire Mint 400 Grand Marshal, Parnelli Jones, will be waving the green flag on race day – at the start of the "Greatest Off Road Race in America"™. Over three hundred off road race vehicles will compete in the Mint 400 this year – making it the largest off road race in North America. The Mint 400 includes four spectacular days of festivities leading up to the epic 400-mile battle on historic Fremont Street in Downtown Las Vegas.
For full event schedule got to: TheMint400.com.
The Mint 400
Known as "The Great American Off-Road Race", The Mint 400 is the oldest, roughest, most spectacular off-road race in America! This 400-mile off-road marathon was started in 1967, and remains an important part of American racing history. Thousands of racers and celebrities from around the world have competed at The Mint – and it draws nearly 300 race teams, and 60,000 spectators annually to Las Vegas, Nevada – to compete in over 20 classes of race vehicles. The Mint 400 is owned and operated by The Martelli Brothers, and is part of the Best in the Desert American Off-Road Racing Series. Television coverage of the annual event is produced by Mad Media and broadcast to Millions of homes via NBC and FOX Sports One Sports.