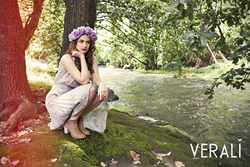 "I was inspired by the romance of being young and inquisitive," says Creative Director Sera Hopwood
Australia, VIC (PRWEB) February 28, 2014
This season's core theme is based around the whimsical nature of youth and the outdoors. The campaign imagery is filled with light, and expresses an innocence that is the backbone of Verali's core values. The range itself was inspired by key international trends that include ankle boots, block heels, platforms, animal prints and textured materials.
"I was inspired by the romance of being young and inquisitive. The range reflects this with interesting but simple styles, executed with clean lines and thoughtful finishes. Items that are on trend but are easy for the youth market to interpret," says Creative Director, Sera Hopwood.
"We all understand that retail, whether in Australia or world-wide, is a tough trading environment," say Hopwood. "Australia particularly, has seen significant increase in online competition and international players have taken significant market share. However, Verali continues to maintain its competitive advantage by having a very clear understanding of the Australian youth consumer and ensuring its collections are trend focused and in line with international markets."
About:
Established in 2005, Verali was created to cater for fashion forward girls. Verali has become one of Australia's most recognised youth footwear labels and can be found in high street fashion retailers throughout Australia and New Zealand.
Links:
Website http://www.veralishoes.com.au/
Youtube Video http://www.youtube.com/watch?v=_z2QLXecjSQ
Facebook https://www.facebook.com/veralishoes
Instagram http://instagram.com/veralishoes#
For more information:
Jess Gant
Press Services Manager
Tel: +61 3 8415 0255
Email: info(at)veralishoes(dot)com(dot)au