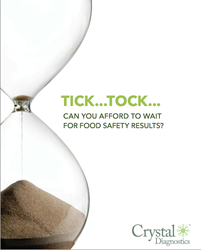 CDx's reduction in test time supports more rapid identification of adulterants resulting in more efficient and timely decision making to ensure product safety within the HACCP framework.Dr. Russell Cross – Professor TAMU, Former Administrator FSIS.
Broomfield, CO (PRWEB) February 18, 2014
For accredited investors only, Pathogen Systems, Inc. d/b/a Crystal Diagnostics (CDx) is conducting a private placement offering using the new SEC rule 506C under Regulation D of the recently amended 1933 Securities Act.
The Company is offering 1,000,000 to 4,000,000 shares of Series B Preferred ($500,000 minimum/$2,000,000 maximum offering) at $0.50 per share, for a limited time.
A 14-year R&D partnership between Crystal Diagnostics, Northeast Ohio Medical University and the Liquid Crystal Institute at Kent State University has resulted in this superior approach to food safety testing.
The Company manufactures an AOAC certified liquid crystal based pathogen detection system for commercial testing of raw ground beef, beef trim and raw spinach. Three components make up the system: a disposable 5-cell Liquid Crystal BioCassette, a CDx Reader for identifying tested samples via five 14-MP digital imagers, and an antibody kit that contains target antibodies. This new technology's nano scale liquid crystal based platform is designed to detect pathogens in food, blood, water, and other sectors.
The Company's revenue model follows a "razor/razor-blade" strategy whereby the vast majority of the revenue and profits are projected to be derived by selling consumables (e.g. BioCassettes and antibody kits) required for each pathogen test, which management believes can result in a recurring profitable revenue stream.
Currently the most common method for food testing is a DNA-based diagnostic method called Polymerase Chain Reaction (PCR). Direct pathogen detection competitors include: DuPont Qualicon (BAX), 3M Company, BioMerieux, SDIX, BioControl, Strategic Diagnostics, and NEOGEN.
The Company's primary competitive advantage vs. PCR is speed. CDx is 25% - 50% faster than PCR. The CDx system uses less enrichment media, which reduces incubation time by three plus hours, and reduces instrument run time from as much as 180 minutes (required for PCR) to just 20 minutes.
CDx's second competitive advantage is accuracy of pathogen detection, specifically the lack of "false negatives" and "false positives." CDx has been accredited by AOAC (the gold standard) to accurately identify target pathogens.
The third competitive advantage over PCR is cost, both in equipment and per-test costs. The CDx Reader, at $25,000 per unit, is priced below the prevailing PCR units, which are priced over $50,000.
Crystal Diagnostics has exclusive worldwide rights to patents for the liquid crystal technology used in the CDx system, as well as exclusive licenses to 15 issued patents and four patents pending, plus all additional patents it is currently filing.
"Our technology has the potential to capture a significant share of the $3.2-billion food testing market, and we are calling on other investors to join before they miss the opportunity," said Jim Bruce, president and CEO of Crystal Diagnostics.
About Crystal Diagnostics: Founded in 2006, Crystal Diagnostics (http://www.crystaldiagnostics.com) is the exclusive licensee of fundamental liquid crystal biosensor technologies developed through a research partnership between Kent State University and Northeast Ohio Medical University. The company has facilities in Kent, Ohio, Rootstown, Ohio and Broomfield, Colorado.
Interested investors can request a free investor's kit from the Crystal Diagnostics website located here: http://www.crystaldiagnostics.com/investment-001.html